Ms. Johnson-Webb and I were eating lunch together last fall, and as often is the case, we were talking about how sports had shaped us into the leaders we are today. As avid collegiate athletes, opportunities to share the sport with younger players (as captains, as coaches) had proven pivotal for each of us—helping to develop crucial leadership skills, instilling confidence, and helping us to navigate the divide between voice and silence. It was decided then and there: CA needed an opportunity for our high school volleyball players to have that same chance, and thus the idea for a Volleyball and Leadership Camp for 6th graders was born.
Immediately, the Varsity and JV volleyball players were "ALL IN". Olivia Willard and Katie White volunteered to teach passing, Nikki Tehrani and Hanorah Alapati took setting, Lexie Davila and Julia Johnson were the right ones for hitting, and our serving coaches would be Ingrid Wang and Estella Multari. The other team members joined the crew, and a plan was organized to combine court skills with meaningful discussions inspired by some amazing female athletes.
Camp day arrived: the 'big girls' (as they soon were called) showed incredible skill and patience as they guided the learners on the courts. The big girls modeled the way: "Volleyball players call out to each other!" or "Volleyball players glow each other up!" And most importantly, "Volleyball players support each other when they make a mistake."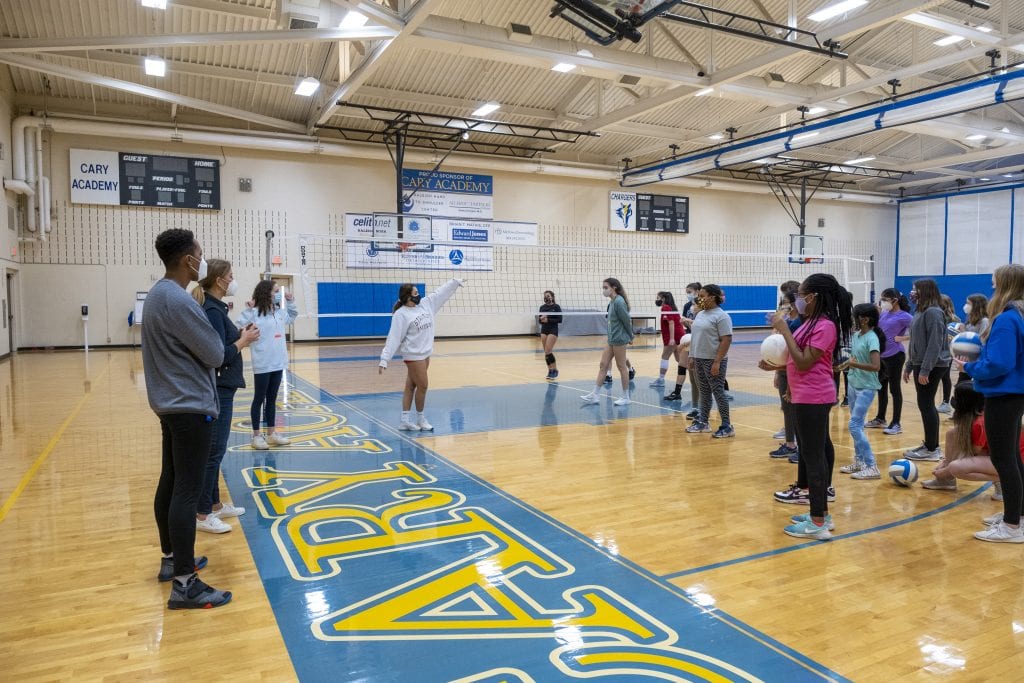 Voices of the sixth graders became louder, more confident each day. As the piece de la resistance, the sixth graders saw Lexie spike the ball; jaws dropped. They applauded. It felt magical. What was equally as impressive, however, was the six graders' ability to engage in deep conversations about risk, vulnerability, voice, and empowerment. 
Ms. Johnson-Webb and I guided them through discussions during the rest/recharge times, watching short clips of Amanda Gorman and stories about Olympic athletes. The girls listened to the messages from Serena Williams and other incredible leaders.  We asked the sixth graders: "How do you take a healthy risk?"  and the girls spoke about family, support, and connections. 
Because we are rooted in feedback and reflection here at CA, the upper school volleyball players offered the following at the camp's conclusion:
" I absolutely enjoyed every second of it! I could tell the sixth graders were super excited to get some special treatment from us older girls 😉 I think we had a really good organization down, the stations ensured that everyone got equal amount of lesson and encouragement. When I used to play club, sometimes if we weren't having a good game or day we'd all sit down and talk about what might've been holding us back. I loved the discussion that we had about being vulnerable at the beginning of the clinic,…Thanks for an awesome opportunity!" 
"Having different girls teach each skill also helped out the high schoolers in developing some leadership skills and getting used to talking to a big group (especially for the underclassman). I LOVED how we had multiple different videos across different disciplines (ie: vulnerability, using your voice, etc.)." 
Both on the court and in the classroom, this special group of Upper Schoolers and Middle Schoolers spoke the truth that the world needs to hear: girls can.
As our current Strategic Plan states in its goals for authentic engagement: we want our students to develop self-knowledge and community identity through relationships. We know that physical, social, and emotional balance is essential for learning and well-being, and that meaningful engagement is one of the ways to get there.
And how about the new, increasingly self-assured voices of our sixth graders? At camp, our big girls fully embraced their role as peer mentors, growing as leaders and positive role models. Our sixth graders felt empowered and emboldened as a result (and certainly, having positive role models around our children is on every parent's wish list). It's no coincidence that in seeing the big girls use their voices, they too found theirs.
Working together as a team, older and younger girls learned valuable and enduring lessons that are at the heart of the CA experience, and which are essential to deep and life-long confidence: the importance of taking risks, embracing struggle, and developing resilience. As one parent of a sixth grader remarked: This is truly one of the things that make CA a special community. Thank you so much for helping our daughter become a strong woman and for making that important to her and defining that even at the precipice of that journey.