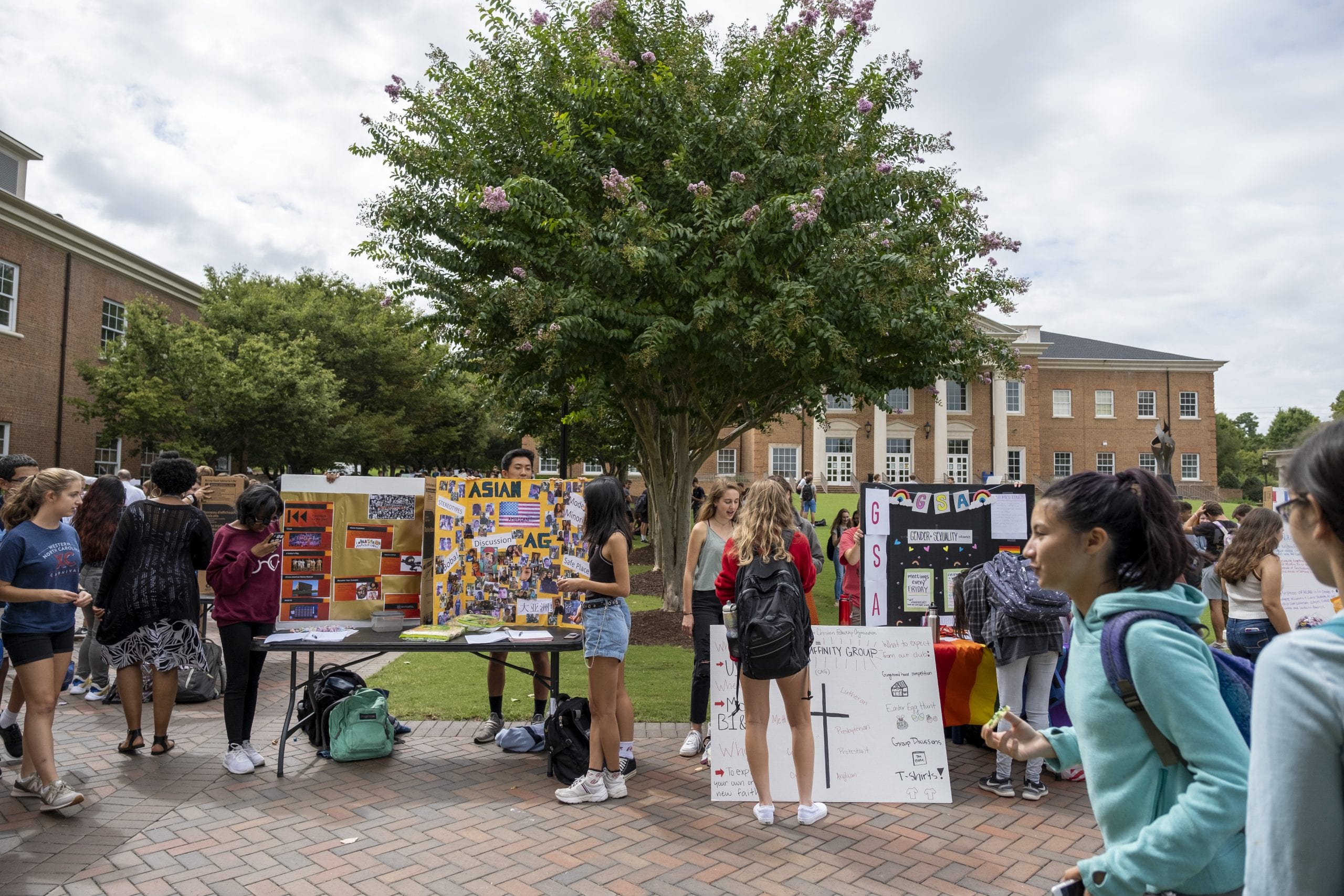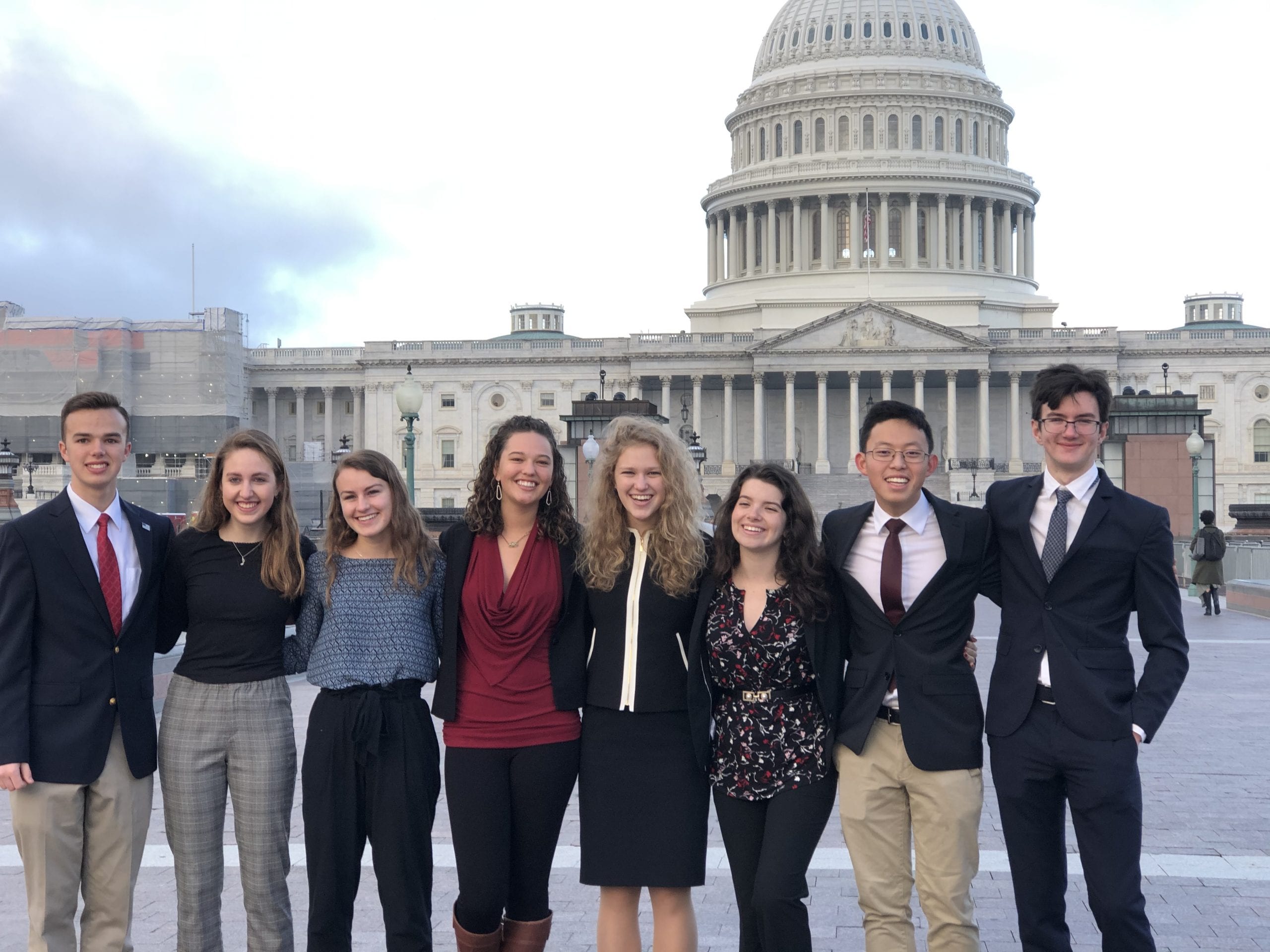 Student Organizations
Our clubs and affinity groups offer you an opportunity to learn something new. To share interests and experiences. And to engage with your community. From intersectional affinity groups to step team to Science Olympiad, we encourage all students to broaden their horizons, build relationships, and experiment with new ideas.
Middle School Club Directory
Affinity Groups
Our Middle School student affinity groups offer a safe space for you to gather with others from the same affinity and your allies. They include:

African American Affinity Group
Christian Affinity Group
Gender and Sexuality Alliance (Mrs. Velto)
Hispanic/Latinx Affinity Group
Indian Subcontinent Affinity Group
Jewish Affinity Group
Arts
Art of Doodling
Find your inner artist!  This club uses the art of doodling to engage students in various art forms. Students will learn to identify, break down and reconstruct patterns. This club develops students' creative identity as they produce impressive works of art in a fun and supportive environment.
Arts Alive
Create your own artwork in an independent setting! Arts Alive club provides space and materials for you to pursue your own artistic interests. Get inspired! Paint, sketch or craft while spending time with other CA artists.
Ceramic/Mosaic Club
Creativity gone wild! Learn how soft gooey clay turns into beautiful pieces of ceramic in an infinite number of shapes and colors. From there, use those hundreds of pieces make your own, unique creation – whether a photo frame, door plaque, or mirror frame – the possibilities are endless.
Guitar and Stringed Instrument
YES! I WANNA ROCK with the fun music. If you do too, and are interested in learning and playing guitar, drums and stringed instruments with friends, join us.  Don't have an instrument? No problem, we provide the instruments to our members. You will learn basic playing skills, play fun songs, explore some multimedia programs, and watch some concert videos of the masters.
Instrumental Ensemble Club
Open to all instrument and percussion players, this club has opportunities to play outside the community and will join US and 8th grade orchestra to perform for  CA commencement.
Just Dance Club
Come bust a move in this club!  Each week there will be a different challenge in which you and your group members design your own dance.
Knitting Club
Calling all knitters-Let's get together for some drinks and cookies while clicking the needles tirelessly. We will create individual squares which we will put together into a nice patchwork blankets for distribution to a retirement home, an animal shelter, or a childcare center.
Modern Calligraphy
Want to step up your signature? Just feeling especially fancy? Relax with friends and learn the art of lettering in the club for the creative and flourish-loving student. Calligraphy literally means "beautiful writing," so let's explore the gothic and copperplate styles together with modern brush lettering while utilizing various bold and metallic inks.
Origami Club
This club is for everyone who wants to turn a piece of paper into beautiful artwork. Here, you will participate in folding a variety of different origami from simple geometric shapes to more complex diagramming at your own pace.
Photography Club
Calling all visual artists! Come learn the basics of photography using your very own Smart phone. We will cover fun fundamentals of composition such as light, contrast, distance, and angle. And not to worry, there will be lots of room for play and experimentation!
Stage Combat
Have you ever wondered what it would be like to be a stunt double for one of today's top film stars?  Here's your chance to learn how to slap, kick, roll, fall, and punch like the pros.  We'll compare stage combat techniques to the techniques employed in film as we develop our own fight sequences, create original dialogue, and explore audience perspective and sight lines.
Cultural Exploration
Spanish Café
In Spain, Middle School students enjoy spending time with friends in cafés while having chocolate con bizcochos, jugos naturales, batidos dulces, helados con barquillos, cafés con leche, tés con pastas, refrescos con tapas. In this club, we will make and taste Spanish treats, at the same time we will explore Spanish music.
Teatime
Each week, we'll feature a different cultural or culinary aspect of the world's most popular beverage: tea! Learn about tea's importance in cultures around the world, participate in a tea ceremony and a traditional English "tea time", create your own herbal tea blends, and go on a tea-inspired field trip!
Games and Gaming
Cards and Games
Unwind a little and enjoy your friends! We'll play games like Uno, Apples to Apples, Clue, and Sorry. If you like social, interactive games, this club will be a fun end to your afternoon.
Chess Club
The main focus of the Chess Club will be to have fun playing chess. It is open to all levels of players including folks who want to learn the game. We will have "open play" days, mini-tournaments, and timed tournaments.
Getting Jiggy With It-Jigsaw Puzzle Club
Puzzles are a great for your brain. We'll provide the puzzle or you can, but we'll need lots of hands to get it done, so come out and join the club!
Rubik's Cube Club
Come share your love for Rubik's Cubes! Whether you know how to solve a cube or have always wanted to learn, come and join us for some cubing fun. Once you know how to solve it, spend time working to improve your speed or test your skills on some advanced cubes – 2x2s, 4x4s, pyramids and more.
Xiang Qi Club
One of the most popular board games in China, India, and across Asia, Xiangqi (Chinese: 象棋) is a strategy board game for two players that is similar to chess. In the club, students will learn to play Xiang Qi, using their logical and critical thinking skills to win the game and solve the puzzles.
Literary
Reading Corner
Ever find yourself in the middle of that good book and no time to get that next chapter in?  Reading Corner will be the best place to relax, listen to some slow jams, find the prefect comfy place to chill, and dive deep into the literary world of your choice.
YA Lit Lovers
Bonkers for Bardugo? Rabid for Reynolds? Dizzy over Dessen? Join your fellow YA lit lovers to read together, talk about books, visit local bookstores, connect with authors, and even make a YA-related craft or two!
Media
CAST News
CAST News is the daily televised broadcast of CA Middle School announcements, news, and features of interest. CAST crew members perform on-camera and off-camera jobs to produce the show seen live throughout the Middle School each morning.
Great American Movies
So, you think you know a lot about movies, huh? Do you know about Buster Keaton? Cary Grant? Audrey Hepburn? Alfred Hitchcock? Whatever you know, here's your chance to find out more. We'll watch and discuss great scenes, performers, directors, and entire movies from the silent era to the almost recent past that have had an impact on audiences.
SPORTS, HEALTH, AND WELLNESS
Cary Academy 5k Club
Come run with us! Together, we'll design and run our workouts, emphasizing a team approach with happy, healthy running as our #1 goal. Count on moving, but we'll also learn about stretching, injury prevention, nutrition, and staying focused and motivated. We can't promise any Usain Bolt moments, but we'll sure have fun trying.
Disc Golf Club
Do you like to play disc golf or wish you knew how? Then this club is for you! We'll review the basics, then we'll play here on campus and at nearby courses. We'll also hear from local disc golf professionals, watch cool disc golf trick videos (and maybe make our own!), and even dye our own custom discs.
Frisbee Club, Disc Mania
 Students will play various forms of Frisbee games including Ultimate, Disc golf, Can Jam, Guts, Doubles Disc Court, and Free Style. We will also explore other sports recognized by the World Flying Disc Federation. Students will learn the various throws using a Frisbee, including the forehand, backhand, and overhead shots.
Rest, Relax and De-Stress
Have you ever felt stressed at school and wanted a break?  In this club, you will learn the meaning of mindfulness, as well as participate in fun activities to help you relax and find relief from stress.  Activities range from mindful eating to exercise to entertainment and creativity.
Volleyball Club
Come have some fun learning the great game of volleyball!  We will review the fundamental skills of volleyball (passing, setting, hitting, and serving) and learn the strategies of the game.
Walk and Talk Club
Let's get together to enjoy the outdoors and each other's company by strolling CA's beautiful campus while socializing and discussing today's hottest topics.
What's Your Racket
Are you a racket scientist or just a racket sport aficionado?  Would you like to work on a more powerful forehand, put some crazy spin on your backhand stroke, or just have a relaxing time on the courts while learning a bit more about the sport?  Either way, join your peers for some fun on the courts!   Plan on some healthy ping pong, badminton and tennis action.
Yogalates
This club merges aspects of yoga and Pilates in a fun relaxing way to keep us flexible and fit. Mindful yoga poses will help flexibility while clearing the mind, as Pilates strengthens our core muscles. In addition, this club will include dynamic stretches, yoga props, and coordination exercises to create a well-rounded conditioning club for dancers and athletes alike.
Science, Technology, Engineering, and Math
After School Math Competition Club
Students will work on challenging contest problems and math puzzles from competitions such as Math Counts, AMC 8 and State Math contests.
Robotics
Are you interested in programming robots to perform fun tasks?  Would you like to help a robot make decisions by sensing its environment?  In robotics club, you will learn to program LEGO MINDSTORM NXT robots to perform various challenges.  No programming or robotics experience is required.
Tinker, Code and Create
Learn how to use CAD programs to create 3D prints that you keep, or code away, whichever you prefer! There are many ways to create using technology, and we will focus on using 3D printing and coding. For 3D printing, Tinkercad will be used as our beginner CAD program and Fusion will be used for students with experience. For coding, beginners start with Code Monkey and then move on to Scratch.
Social and Environmental Issues
Green Club
Every wondered what happens to all that paper that you put in the blue recycling bin?  Want to learn how to reuse items so they don't end up in the landfill?  Do you know what your carbon footprint is?  Interested in learning more about how you can be a better steward of Planet Earth?  Want to brainstorm with your clubmates about how to help Cary Academy be more sustainable?  Join the new MS Green club to learn about current environmental issues, what you can do to play your part, and to create and implement challenges for your classmates.
Kindness Rocks
How can you spread kindness in the CA community and beyond? Start by using your artistic skills to paint a rock with a special drawing, or use your beautiful handwriting to pen a word or your favorite inspirational quote onto a rock, then "plant" it into the community for someone to find. The rocks continue to be planted in new locations, and the kindness continues! Our rocks have been planted as close by as the Arboretum and have been found as far away as Tanzania! When all our rocks have been planted, we'll continue to spread kindness by using our artistic skills to design cards and positive notes to share.
Upcycle – let's do good and get rid of plastic grocery bags!
Learn about the damage plastics are causing to our environment. Talk about strategies to make small changes in your own lives and encourage your family to make small changes. We will look into ways of recycling plastics that won't cause more environmental damage. As a group we plan to make sleeping mats out of plastic grocery bags and or any other useful items to be given to people in our local community.
Special Interests
All About Animals
The All About Animals club will meet on occasional Saturdays and after school. We will go on field trips and have visitors meet us at school to visit with a variety of animals, from wild and exotic animals to domestic animals.
Breakfast Club: You've heard it's the most important meal of the day, but how often do you just grab food on your way out the door in the morning? In this club, we'll explore, make, and eat breakfast foods from the United States and abroad. Come hungry and ready to work hard,
Disney Club: Disney is something well loved by people of all ages. In this club, we will watch Disney movies, have Disney Karaoke, learn to draw Disney characters, and eat Disney food.
Gardening Club: Do you want to get down and dirty? Work in the soil? Raise a family of worms? Build something lasting? Then the Gardening Club is for you. We will create a MS garden spot, research flowers and plants that will grow in our chosen spot and then plant and maintain our garden bed.
Passion Project Club
Have you ever wanted to teach yourself a new skill? Perhaps you would like to learn how to play the guitar, to draw, to write in cursive, learn a language or knit. Maybe there is a new topic that you would like to learn about, something not covered in school. Maybe you would like to spend time developing a plan for your future by thinking of a business you would like to open or a career path to follow. Is there a current problem globally, locally, or personally that you would like to solve? If any of the above apply to you then "Passion Project Club" is the place for you! You can choose your passion and we will help each other through the process.
Roller Coaster Madness
Calling All Thrill-Seekers!  This club will more than fill your need for speed as we explore the ins, outs, ups, and downs of the world's greatest amusement parks and their roller coasters.  Investigate the history and the mechanics behind these steel and wood giants, while experiencing firsthand some of the area's greatest coasters.
Sci/Fi Fantasy Club (CASF)
This club provides a place for students who enjoy the science fiction and fantasy genres to convene and discuss the genre and bond over their love of speculative fiction. There will be many activities having to do with Sci-fi/Fantasy, including watching TV shows and movies, playing games, reading stories, and even making crafty "creatures."
Wizarding World
In the tradition of Harry Potter, wizarding magic has arrived on campus. If you are a Potter fan, join the club to dabble in the wizarding arts with other interested Muggles. Activities may include trivia, close readings, a sorting hat ceremony, Snape's potion class, a Tom "Riddle" Scavenger hunt, movie screenings or something of your own design!
Student Leadership
Ed Tech Leadership Club
The EdTech Leadership Club (ETL Club) is for students interested in developing leadership, technology, and teaching skills. Club members will progress at their own pace through a set of skills in the areas of ED Tech, teaching and leadership and will earn micro-credentials (virtual badges) along the way.
Student Leadership
We are looking for a core group of hard working, responsible and committed students who will serve as vital leaders for our student body. Student leadership representatives will exhibit service to others, integrity, and mutual respect. They will come armed with innovative ideas for strengthening our school community and work hard as a group to make those ideas a reality.
Upper School Club Directory
Affinity Groups
Our student affinity groups offer a safe space for you to gather with others from the same affinity and your allies. They include:
African American Affinity Group
Asian American Affinity Group
Christian Affinity Group
COEXIST
Our umbrella affinity group organization comprised of all Affinity Group leaders and their allies, COEXIST meets regularly to discuss intersectional topics that pertain to all affinities.
Gender and Sexuality Alliance (GSA)
Hispanic/Latinx Affinity Group (HLAG)
Immigrant Affinity Group
Indian Sub-Continent Affinity Group (ISAG)
Jewish Affinity Group 
Arts and Design
300 Seconds
Focuses on multimedia production. We aim to produce media of many types to present in a variety of places, like town halls and online.
CA Steppers
Step Team is a dance group that focuses on stepping or step-dancing which is a form of dance that uses the entire body as an instrument to produce great rhythms and sounds through hand claps, stomping, and choreography.
Clouds Bob Ross
Dance Around the World
Dance Team
Dance Team choreographs and performs a dance that is shown at various school events.
Dream, Discover, Design!
To develop ideas and design installations for the CA campus.
Knitting
Knitting Club is designed to provide an open environment for learning a mindful skill to help with stress and anxiety, as well as offering a social space for friends to interact and make memories.
Open Art Studio
Share the Music Club
Share the Music is a club that is meant for sharing music with everyone! Practice times are flexible, so members can practice in groups of their choosing whenever they have time each week. We plan on performing in a variety of places, including retirement homes, hospitals, and other venues.
Tech Theater Club
Tri-M Music Service Club
Business and Entrepreneurship
Business 101
Future Business Leaders of America
FBLA explores different aspects of business in regard to what the club members are interested in. We bring in speakers, learn about different business tactics, compete in different business challenges, and much more. Our goal is to teach students about business in a generalized and fun manner.
Investment Club
Teaching and learning investing through real transactions.
Startup Challenge
Games and Gaming
Brain Games
Chess Club
The purpose of this club is to practice the game of chess, and when opportunities arise, discuss strategies for improvement in both small and large groups. Interested students may compete as part of the CA team in the North Carolina State Scholastic Chess Championships.
Role Play Gaming
Tabletop Roleplaying Games
Trivia
Trivia Club strives to give students an opportunity to explore their knowledge—geography, history, math, science, general knowledge, pop culture, and more—through a variety of educational competitions in and beyond the Triangle.
Health and Safety
Community Emergency Response Team (CERT)
CERT helps to teach and train members how to respond in emergency situations, including first aid techniques, how to use a fire extinguisher, and how to conduct search and research operations.
Healthy Eating
Health Occupation Students of America (HOSA)
HOSA is intended for students interested in learning about, and possibly pursuing, the field of medicine. During clubs, we listen to professional speakers from different areas of medicine and engage in hands-on activities to practice tasks such as using epi-pens, suturing, and using blood pressure machines.
Search & Rescue Team
The Search and Rescue Team trains students in proper first aid, disaster relief, leadership, SAR procedures, and wilderness survival.
Literary and Communications
Bookies and Cookies
Fosters a love for reading in the CA community through monthly themes and school-wide activities.
Campitor
The Campitor is CA's student-run newspaper, covering everything from school events to national news, and featuring an advice column, student spotlight, interviews, cartoons, and more.
Inkblot Magazine
CA's student-led arts and culture magazine
Literary Magazine
Showcasing student literary and artistic abilities as well as honing our writing and editing skills.
Poetry
Science, Technology, Engineering, and Math
ACSL Programming
The purpose of this club is to practice for the programming and written portions of the American Computer Science League contest. There are four regular season contests, and then top students may qualify for the Global All-Star Contest.
Apiary
App Design
The App Design Club welcomes students of all levels of experience to learn about and explore app design.
Math Club
The purpose of Math Club is to first practice and participate in individual and team-based mathematics competitions or apply math in board/card games.
Robotics
Science Olympiad
USAYPT
USAYPT explores the theoretical and experimental aspects of four complex physics problems, ranging from dark matter to hammers. Members delve into specific areas of physics that aren't normally in the curriculum and present their work at the annual USAYPT Physics competition.

WISE: Women in Science & Engineering
WISE advocates for gender equality in STEM fields by hosting various awareness and educational events in both the Upper and Middle school.
World Building
Exploring different aspects of World-Building through discussions, videos, and activities revolved around creating culture, species, geography, and more.
Service
Delta Service Club
The umbrella service organization for the Upper School, Delta encourages meaningful service experiences by empowering students to dive into causes that are personally important to them.

National Honors Society (NHS)
The NHS is a national service club with a chapter at Cary Academy. We focus on serving the community, both within and outside of CA, through various activities such as the tri-annual speaker series, penny wars and various service days.
Reedy Creek ESL Tutors
Social and Global Issues
CA Green
CA Green's purpose is to learn about American consumerism and how it relates to environmental, societal, and economic issues and to raise awareness of them within the CA community.
Campus Conservatives
Model UN
Model UN prepares our members for the UN conference. A pair of "delegates" will represent the interest of separate countries, while working together to come up with solutions, ideas, and change for an ideal world.

Philosophy/Ethics Bowl Team
Promoting thoughtful and insightful ideas/dialogue through discussion and competition in the National Ethics Bowl.
Shifting the Educational Paradigm (STEP)
STEP focuses on fostering innovation, authentic learning, and global citizenship and reshaping education through conversation and action.
Students Against Destructive Decisions
SADD creates an environment to promote healthy and safe decisions while providing a space for open dialogue about present issues concerning destructive decisions.
Students for Gender Equality
We evaluate the issue of gender equality at school, in the workplace, and throughout the world through discussions, presentations, playing games, watching movies, raising money, and holding workshops.
Sports and Physical Pursuits
Basketball Analytics
Indoor Track

Mountain Biking Club
Outdoors Club
Outdoors Club offers students the opportunity to learn camping and backpacking skills. Members enjoy and explore nature on two different backpacking trips to the North Carolina mountains.
SCUBA
The scuba club brings together students that share a passion of scuba diving. During the year, members will take a few trips ranging from the Raleigh area, to the coast, and beyond North Carolina.
Spikeball
Student Leadership
CA Ambassadors
Student Council
X-Factor
X-Factor raises awareness for school spirit and athletics at CA and plans annual events, including Friday Night Lights, Homecoming, and the fall and spring tailgates.
World Language
Chinese Club
The purpose of Chinese club is to teach students at Cary Academy about the Chinese language and Culture while having lots of fun. Chinese club teaches via fun, non stressful activities such as celebrating holidays, Chinese yo yo and much more.
French Club
Our purpose is to give our students the "full French experience" with our activities, cooking, and annual visit to a French restaurant.
German Club
Spanish
Spanish club focuses on bringing awareness to the many opportunities that being involved in Spanish in the Upper School brings and helps to create an environment where learning Spanish is fun and exciting.