How do you start your day? Since ca opened its doors in 1997, the school day starts for most Middle School students and faculty with a wave and a warm smile from Cindy Laughlin, the middle school's senior administrative assistant.
Though she's been described as the heart of the Middle School, Laughlin sees herself in a different role: "I'm sort of like the grandmother," she laughs.
A longtime resident of Cary who had spent years volunteering in education throughout Wake County, Laughlin felt drawn to the promise that Cary Academy represented. "Watching the Goodnights' and Salls'—CA's co-founders—innovative involvement in education, I was ready for the next step."
For Laughlin, being at CA is as exciting today as it was in 1997. "I thrive on the energy that comes from the children, from the collaboration. People come here because they want to be here. Every member of the community gives something of themselves."
As CA's very first day of school began, the first incarnation of the now-cherished handshake ceremony took place in front of the Middle School—a fitting location, as the Middle School was the very heart of Cary Academy. "Much of CA's program was located in the building; it housed Middle School classes, arts, and the library for the whole school. We even had lunches delivered and ate in the classrooms because the Dining Hall wasn't completed until a few weeks later, in the fall of 1997."
In many ways, Laughlin has watched CA grow up, much the same way that she's watched class after class of Middle School students mature before her eyes. "I have the best seat in the house. I get to watch everybody come in on their first day in sixth grade, when everything is new and the students have a sense of wonder. From my desk, I watch all year long as they grow up. If you've done it right, when they come back—whether it's as students in the Upper School or after we've sent them out into the world—they look at you, talk to you, and say 'hi,' first."
Laughlin is awed by the growing community of alumni and the physical expansion of campus since opening day, including the construction of the Administration building, Berger Hall, and the Center for Math and Science. However, it is the changes to the Middle School experience—including the shift away from textbooks toward more individualized learning, the Charger Trails program, the change from a static schedule to one that shifts classes across days, and the increased geographic and socioeconomic diversity—that impress her most. "Our founders were not afraid of change. Their vision lets us face new challenges to better help our students."
One thing that has not changed is Laughlin's role working alongside Head of Middle School Marti Jenkins. Laughlin likes to joke that she and Jenkins have been working together for so long that are practically "a couple."
Indeed, it's a deep relationship that Jenkins says benefits the entire Middle School. "We have been working together so long that we have an innate understanding of what we need from each other to do the best job of moving the Middle School forward on a daily basis." She credits Laughlin as a critical member of the Middle School team for her role in helping to build a cohesive community and helping students to find their "right-fit" path through CA.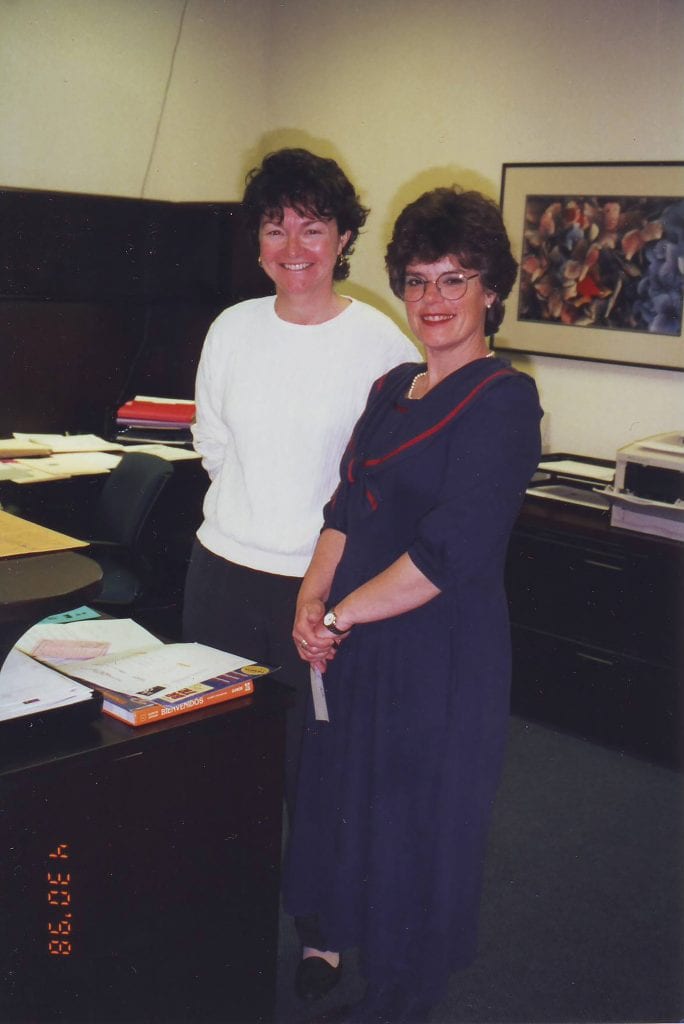 "Cindy is an outstanding listener. She has an amazing way of connecting to various constituents in our community. Whether she is talking with a sixth-grader, a faculty member, a parent, a board member, or the Staples delivery person, everyone walks away feeling valued," offers Jenkins. "She is always professional, completely reliable, steadfastly honest, and is a master at multitasking amid constant interruptions in the busy office. And she loves being around and working on behalf of young people."
Even before each Middle Schooler first walks past the front office, Laughlin has already been hands-on, working hard to craft their schedule. Laughlin—who has a degree in accounting–says that, while there are software options that could produce student schedules at the touch of a button, such solutions don't really address the challenge of ensuring that each Middle School student has the opportunities they need to succeed.
"Nobody is a square peg, here. That's the vibe of the Middle School—kids are not afraid to be themselves. Everybody has a place where they fit. And we work hard as a team to help them find it. If you come to the Middle School, you'll develop a strong foundation that can help you be successful wherever you go."
Laughlin's biggest thrills, smiles, and happy tears come from seeing what former Middle School students have accomplished, how they have built on those foundations that she helped lay.
If there is one thing Laughlin hopes students have learned from her, it's the importance of kindness. As front line support for students, faculty, and parents, Laughlin understands that how she reacts to the challenges faced by those who come to her for help can profoundly impact their day—maybe even their lives.
Whether it's bringing a student her forgotten contacts or guiding a parent to their child's classroom, small acts of kindness can have a big impact. "That one moment of kindness—even something small, just asking 'how are you' or asking about their day—could be something they never forget."
As for what Laughlin, herself, has learned from students: "as silly as this may sound, they have taught me how to be a grandparent. I feel like I'm a grandmother to a lot of these children. They don't give me assignments or homework; they give me respect. Being around kids all the time, I've developed the patience and appreciation that you need in order to be a wonderful grandmother. I just became a grandmother, and I can't wait for my grandson to be a little older, so I can show him how silly I've learned to be."