CA's varsity girls swim team captured their fifth-consecutive NCISAA State title last week at the Greensboro Aquatic Center. The team earned more than double the points of second-place Charlotte Country Day. Seniors Anna Newman and Nisma Said were individual state champions, winning their individual events.
Newman and Said were joined by Sydney Martin '24 and Elena Zayas '21 in receiving All-State honors with a convincing win in the 200 Medley Relay. The 200m Free (Sarah Chen '26, Jordan Smith '21, Louisa Wendt '24, and Zayas) and 400m Free (Chen, Martin, Newman, and Said) relay teams followed suit with wins.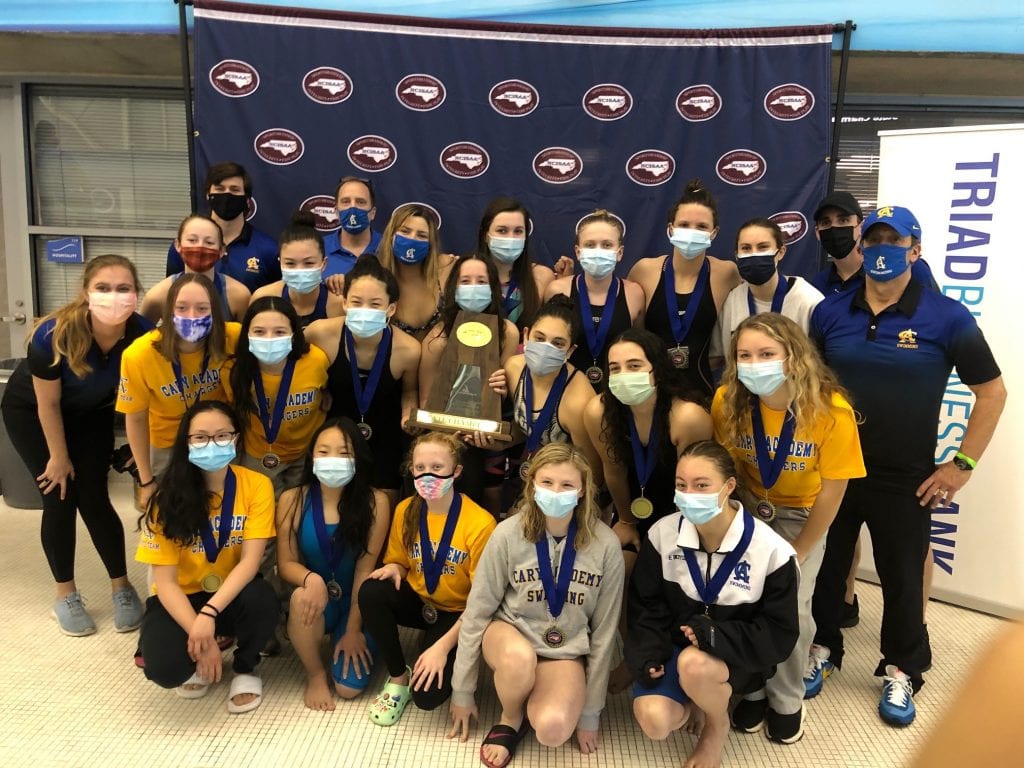 The varsity boys swam to State Runners-Up. In six of the eight individual events, CA's boys scored 3 or 4 swimmers. Both Alex Lim '22 and Oliver Wang '22 turned in school record-setting performances. Quinn Vaughan '21 was the boys' other individual medalist placing third in the 50m Free while the 200 Free Relay (Oliver Moore '22, Cy Reading '22, Vaughan, and Wang) and 400 Free Relay (Adam Farris '22, William Hook '24, Vaughan, and Wang) claimed the bronze.
Athletic director Kevin Jones exclaimed, "The coaches are extremely proud of both teams! It was simply a joy to watch." Way to go, Chargers!