With the Spring 2020 athletics season disrupted by COVID-19, we are celebrating the athletes of Cary Academy's Class of 2020 via 'virtual Senior Nights' each week. On Senior Night, each player is introduced by their coaches and then given the opportunity to make remarks.
Carson Baker
Carson Baker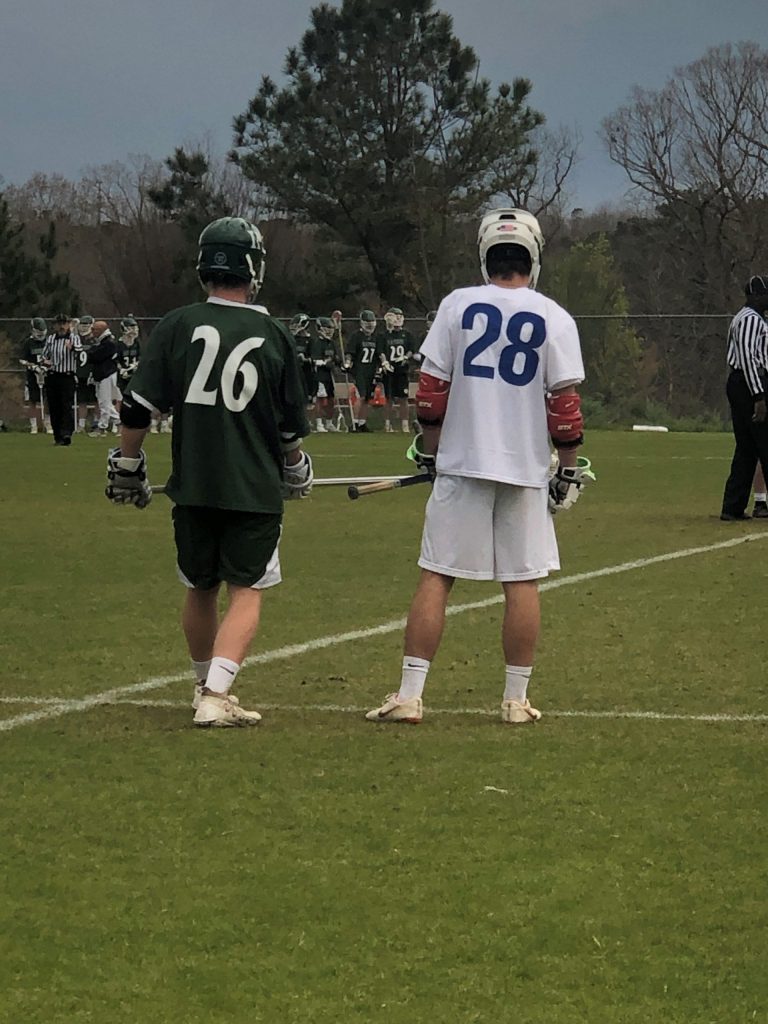 From the coaches
Last year was Carson's first year playing lacrosse. He is a natural athlete who we wanted to find a way to on the field to take advantage of his athleticism. Carson has excellent foot speed and became a multipurpose player for us who would cover the best offensive threats on the opposing teams. This year we moved Carson to a starting defensive position.  Carson has been a welcomed asset to our team.  Thank You Carson, we wish you well as you pursue future endeavors.
In his own words
I want to thank both Coach Olive and Chakey for welcoming me to the lacrosse program. They have incredible visions that I know they will bring the team success. I also want to thank my parents for their genetics and unwavering support through all my athletic commitments. 
I only played lacrosse for a short time but it was a way for me to grow as an athlete and a person. I transitioned from an individual sport to this team game which gave me Brotherhood and memories for life.
My favorite memories include our bus trips and team bonding activities. Aside from these, I leave my shooting ability to Matt Logel, dropping the shoulder to Landon and my minutes on the field to Tucker. Score some goals for me.
Next year I will be attending UNC-Chapel Hill, majoring in Business.
Parker Courts
Parker Courts
From the coaches
Unfortunately, this was Parker's first and last season in Varsity Lacrosse and we wish we could have had him sooner. Parker is a gifted athlete who spent a several seasons on the Soccer field.  With his background in Soccer, Parker picked up the game of lacrosse quickly and would have been a benefit for our team if we had more time to work with him.  We wish you well Parker.
In his own words
As a soccer player, Lacrosse was meant to be a senior yolo where I tired a different sport for the first time in 10 years.  Even in the little time we had I was able to learn a new skill set and make friends.  Thanks to the coaches and the boys for making the season fun while it lasted, and good luck to next year's team! 
I will be attending Wake Forest University in the fall and plan on studying business.  
Ben Logel
Ben Logel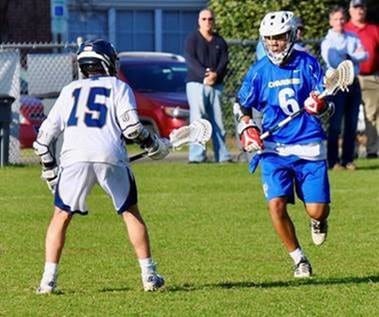 From the coaches
Throughout his tenure at CA, been quickly earned the respect of his coaches and teammates. The past two seasons, Ben was our team captain. He is a natural leader who kept his approach positive and supportive. Ben's contributions to the Lacrosse program will absolutely be missed; he will be remembered as one of the best lacrosse players in Cary Academy history. Ben, thank you for all that you have done for CA Lacrosse, we wish you the best next year and in your future.
In his own words
Since I was in 1st grade, lacrosse has meant everything to me. I've played with a lot of different guys, and for a lot of different teams, but nothing can really compare to the experience I had being able to suit up for my school. Even though I was determined to make my senior season my best one yet, and it was cut short, I wouldn't change anything about my career as a lacrosse player at CA. Through the ups and downs, it has been nothing short of unforgettable. I've made some incredible friends and learned an incredible amount about myself and how to deal with adversity. I owe all of this to my teammates and coaches.
Coach Olive and Coach Chakey have come into the program and made an immediate impact. I can't wait to come back and see where the team is in a few years, and I am so grateful for the time and energy you guys gave to our team.
Perhaps the most important thank you I should give is the thank you to my parents. Since I was little, they've supported me every step of the way. Mom has always made sure I have water and food for practice, and Dad was always ready to get reps with me and cheer me on, no matter what. Looking back, I realize I wouldn't be half the player or person I am without them.
There are so many good memories from my years on the team, but my favorites will always be the ones I shared with my brother, Matt. We've always had to play on different club teams with our age difference and being able to play on the same high school team has been a dream come true for me and him; it's been so fun.
As far as leaving things behind, I would just like to leave work ethic to the entire team. Just remember, as the lacrosse team at CA, you always have something to prove to other people. Class of 2022, y'all are going to be the first class to have all 4 years with Chakey/Olive. Lead by example, lead well, and lead strong. I'm going to miss this team, and I'm excited to see them excel in the coming years.
Next year, I will be attending UNC-Chapel Hill and likely majoring in environmental science. 
David White
David White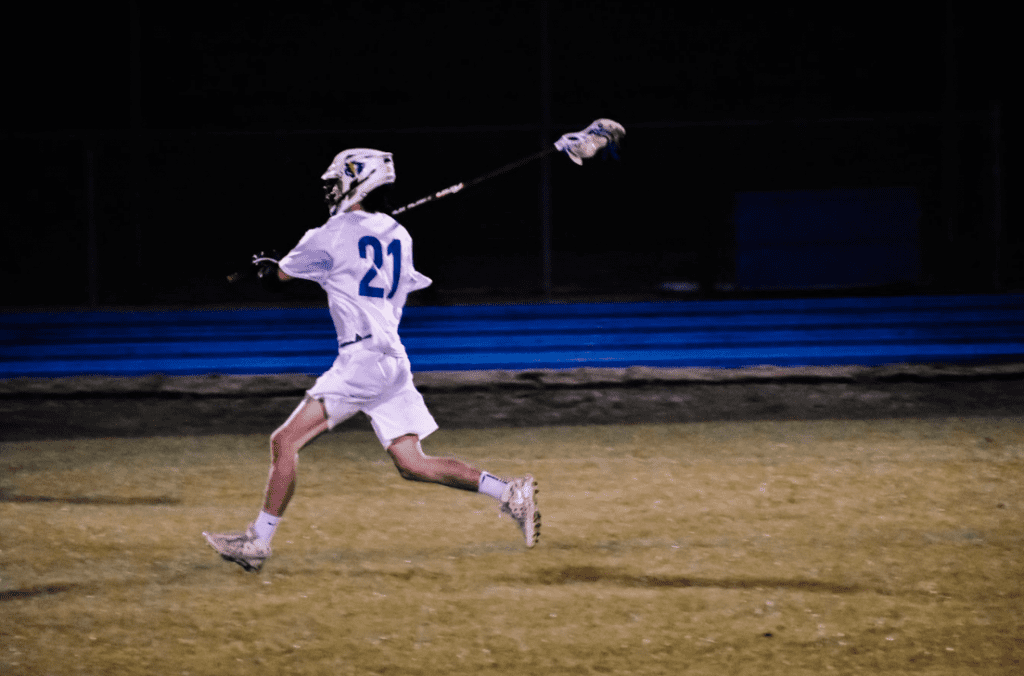 From the coaches
Though only with the Lacrosse program for two seasons, the coaching staff enjoyed working with David.  Last season his hard work earned him a starting position on defense; not an easy feat as a first year player.  This year his leadership and dedication made it David an easy choice as one of our team captains.  David, we wish you well – Good Luck next year!
In his own words
First off, I'd like to thank everybody who makes lacrosse season possible. Coach Olive and Coach Chakey have put in so much time and effort in order to help us grow- as lacrosse players, students, and people. They've developed a still-growing culture of hard work and I can't wait to see where the program will be in a few years under their guidance.
I'd also like to thank Ms. Logel for every team event, snack, or gathering that has been organized. You put in so much time and effort for us and I truly cannot imagine our program without you.
I want to thank my mom- a lifelong lacrosse fan- and my dad – an easy convert- for coming to my games, giving me encouragement, and so much more during my brief but action-packed career.
And, finally, I thank the players. You guys gave me the courage to play lacrosse for the first time as a junior and welcomed me with open arms. We have everything from year-round lax bros to newly-padded up freshman, and I could not be any prouder of all you guys. I see how hard you work in and out of season and I hope you'll keep playing as long as you can.
Though our record may have been less than stellar, I was never anything short of absolutely proud to call myself a member of the team. We had so many great bus trips and thrilling games and it's one of the few teams I've ever been on in which the group was both a ton of fun to be around and hard workers when it came to game time.
I leave the defense to Coop and for Owen to inherit after. Never let the aggression die.
Next year I will attend the NC State College of Engineering in the fall (hopefully) where I'll most likely major in computer science.