At Cary Academy, the final Friday in February always marks the Middle School's Ubuntu program  – CA's celebration of community that supports our mission by helping students see how they can impact the school, their community, and the world. Ubuntu allows students to experience different cultures, food, work, and other topics through different lenses, piquing their interests and inspiring them to take a deeper dive into a variety of issues.
This year, in the interest of keeping our students and community members safe and healthy, the Ubuntu Celebration was spread across the week, last week. On Tuesday and Thursday, Middle School students in the Blue and Gold learning cohorts had the chance to sample foods from across the globe during lunch. On Friday, each Middle School grade attended virtual discussions with scholars, activists, and artists whose work serves to inspire us to think about ourselves, our roles in our communities, and our place in history.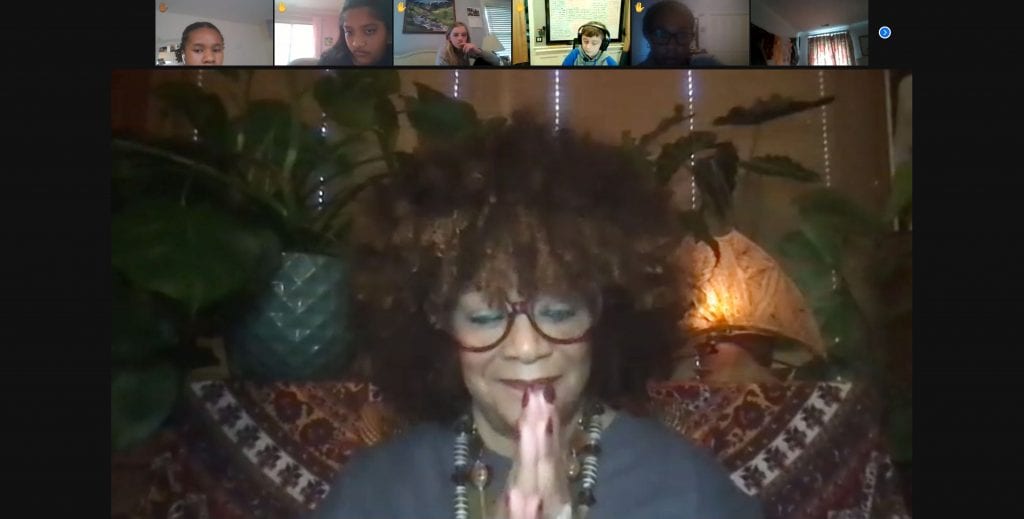 The sixth grade was inspired by Jaki Shelton Green, the third woman and the first African American to be honored as North Carolina's state poet laureate. Shelton, who teaches documentary poetry at Duke University, challenged the Class of 2027 to each choose an object or experience that has particular significance to them and then craft a thoughtful personal statement on how it's shaped who they are. In preparation for her workshop, "What We Keep Keeps Us," Shelton Green asked the students to consider having a conversation with their family about the object, its meaning to them, and its meaning to their family.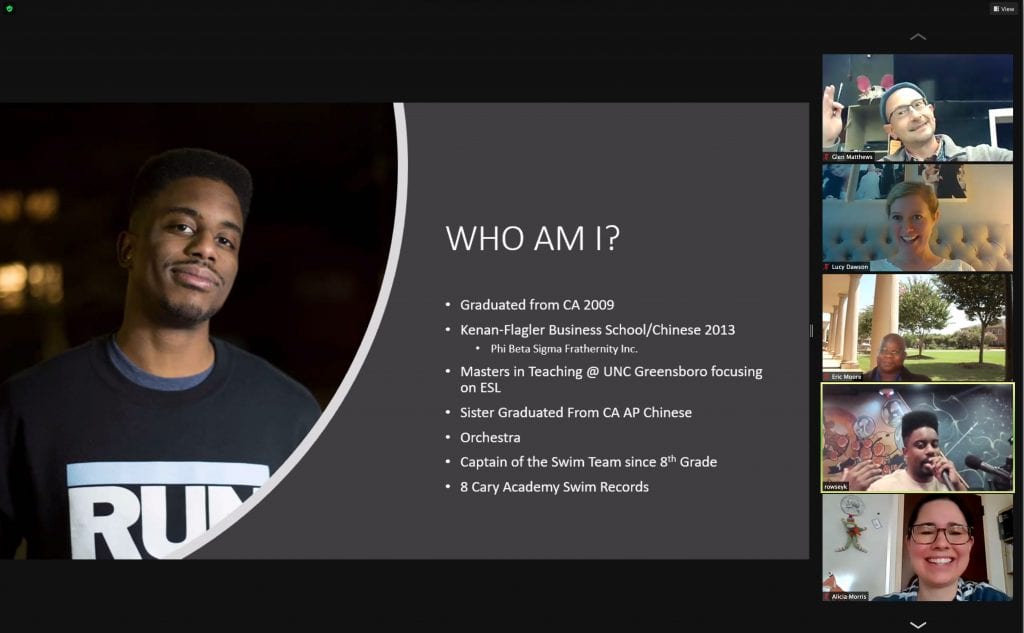 CA alumnus Josh "Rowdy" Rowsey '09 sat down with the seventh grade to discuss how developing one's voice and a strong sense of self helps us strive towards social justice. Rowsey, an educator and hip hop artist who uses music, writing, and performance workshops to mentor youth across the nation, is the Program Director at the downtown Durham Afrofuturist Teen Center, Blackspace. During Rowsey's workshop, entitled "Afrofuturism: Taking SPACE as a form of Social Justice," students created and performed spoken word and lyrics inspired by John Lewis' autobiographical March trilogy of graphic novels, co-written with Andrew Aydin, and illustrated by Nate Powell.  "Josh's electric energy and welcoming spirit encouraged students to take a risk and courageously perform their pieces before the entire seventh grade," says MS language arts and social studies teacher Lucy Dawson.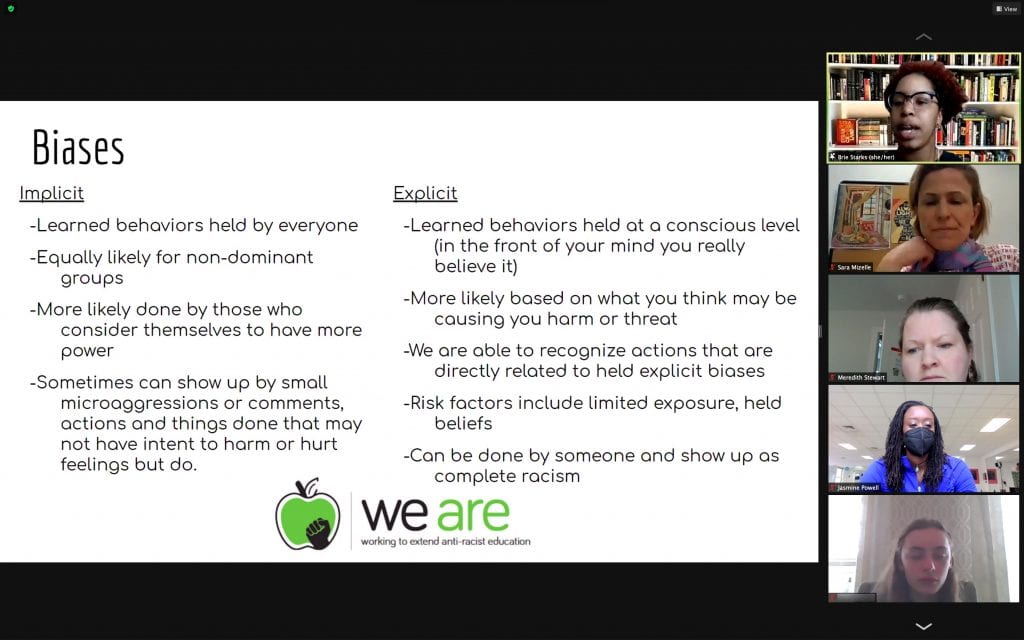 Brie Starks, the Children and Families Program Coordinator at we are, a Durham-based organization dedicated to disrupting structural racism in the education system and promoting youth engagement on racial injustice, spoke with the students and faculty of the eighth grade. Starks worked with the Class of 2025 to better understand cultural identifiers, bias, and how they can take action to effect real, meaningful social change in her workshop, "Unpacking Identity and Implicit Bias." Starks, who holds a Master of Social Work, has worked on a number of advocacy efforts for students of color, underrepresented youth, persons living with disabilities, and building campaigns around trauma awareness.
About the presenters
Jaki Shelton Green, ninth Poet Laureate of North Carolina is the first African American and third woman to be appointed as the North Carolina Poet Laureate. She is a 2019 Academy of American Poet Laureate Fellow, 2014 NC Literary Hall of Fame Inductee, 2009 NC Piedmont Laureate appointment, 2003 recipient of the North Carolina Award for Literature. Jaki Shelton Green teaches Documentary Poetry at Duke University Center for Documentary Studies and has been named the 2021 Frank B. Hanes Writer in Residence at UNC Chapel Hill. Her publications include: Dead on Arrival, Masks, Dead on Arrival and New Poems, Conjure Blues, singing a tree into dance, breath of the song, Feeding the Light, i want to undie you.On Juneteenth 2020, she released her first LP, poetry album, The River Speaks of Thirst, produced by Soul City Sounds and Clearly Records.Jaki Shelton Green is the owner of SistaWRITE providing writing retreats for women writers in Sedona Arizona, Martha's Vineyard, Ocracoke North Carolina, Northern Morocco, and Tullamore Ireland.
Joshua Kevin "Rowdy" Rowsey is a National Recording Artist, Writer, Actor, and Educator based in the North Carolina Triangle Area. Rowdy has been featured on BET, NPR, PBS Kids, and has given a TEDX talk on the importance of Hip Hop Culture. Rowsey is a U.S. Hip Hop Ambassador through the U.S. Department of State and the Next Level Hip Hop Program. On stage Rowsey is part of the national collective No9to5 Music and plays with a live Jazz Band (J) Rowdy & The Night Shift which was nominated for a 2017 Carolina Music Award. They've been able to share the stage with the likes of Rakim, Busta Rhymes, Ari Lennox, Childish Major, Snow Tha Product, Murs, 2 Chainz, Juicy J, and a plethora of other national recording acts. Currently Rowdy is the founder of two triangle area cyphers – The UNC Cypher (UNC-CH) and the Med City Cypher (Downtown Durham). He also holds the position of Program Director at the Downtown Durham – Afrofuturist Teen Center Blackspace. Through UNC Greensboro's Master of Arts in Teaching Program Rowsey continues his mission to spread southern hip hop at a national and international level through performance, writing and educational workshops inspiring the culture through the craft.
Brie M. Starks, MSW is a proud Detroit, MI native. Brie is a proud alumna of the University of Michigan where she obtained a B.A. in History, Political Science, and Afro-American and African Studies. She also holds a Master of Social work from the University of Pennsylvania's School of Social Policy and Practice. Instead of a clinical based MSW, Brie chose to pursue a macro-focused MSW in community organizing and obtained a certificate in Global Human Rights at Penn. Brie has worked on a number of advocacy efforts for students of color, underrepresented youth, persons living with disabilities and building campaigns around trauma awareness. She enjoys DIY projects and anything that allows for maximum creativity. Brie is the Children and Families Program Coordinator for we are.