CA may be practicing social distancing through virtual learning, but even the coronavirus won't stop the Chargers from celebrating the 50th anniversary of Earth Day. In addition to the many green initiatives underway at CA and inspiring work by our alumni, students and faculty from the Middle School and Upper School are working harder than ever, today, to cherish and replenish our planet.
Unplug and get outside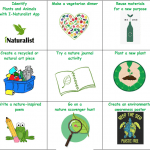 Today, Middle School students will not have regular classes. Instead, they are participating in the MS Earth Day Celebration. And we're inviting families to get in on the action. This morning, students received an online Celebrate Our Earth tic-tac-toe grid with a list of nine activities. You might use the iNaturalist phone app to become a citizen scientist. Or cook a vegetarian dinner to reduce your carbon footprint. Or become an "artist for the earth" by creating art from recyclables or items from nature, and much more.
Climate Action Bingo Contest
Do you want to celebrate the 50th anniversary of Earth Week? Allie Chandler '22, part of the NC Climate Action Team, wants you to know that there's no better way than improving your personal climate footprint, supporting sustainable businesses and entering to win prizes. Check out the North Carolina Climate Action Team's Earth Week BINGO Contest!
US Green Spirit Week in honor of Earth Day
CA SEEDS and Student Council are teaming up to show how Blue and Gold makes green! Every day next week, US students can earn Spirit Cup points for their grade by completing environmental challenges and sending in photos. The challenge kicks off Sunday, April 19 and continues through Saturday, April 25.
Sunday, April 19: Energy Footprint Day

Send SEEDS a picture of you washing your clothes with cold water and air drying them OR a picture of you air drying your hair instead of using a hairdryer

Monday, April 20: Meatless Monday

Send SEEDS a picture of you eating vegetarian for lunch

Eat vegetarian for dinner for x2 points

Tuesday, April 21: Pot a Plant Day

Send SEEDS a picture of you planting some seeds or potting a plant

"Grow something for your future!"

Wednesday, April 22 (Earth Day): Sustainable Fashion Day

Send SEEDS a picture of you wearing your oldest t-shirt, a hand-me-down, or a thrifted item

Take a picture of yourself in nature for x2 points

Fill out survey: where do you shop?

Thursday, April 23: Water Footprint Day

Send SEEDS a picture of you turning off the water while brushing teeth or using soap while washing hands

Collect the cold water from before your shower and use it to water your plants for x2 points!

Friday, April 24: #Fridays for the Future

Join one of the following organizations:

CCL (Citizen's Climate Lobby)

Don't forget to follow CA.SEEDS on Instagram!

Saturday, April 25: Spring Cleaning Day

Send SEEDS a picture of your donation pile!
Green Sprit Week
Let Upper School students and staff show you how Blue and Gold make Green.