With the Spring 2020 athletics season disrupted by COVID-19, we are celebrating the athletes of Cary Academy's Class of 2020 via 'virtual Senior Nights' each week. On Senior Night, each player is introduced by their coaches and then given the opportunity to make remarks.
From the coaches
Coach Krista
To my crazy, lovable, never-a-dull-moment CATF seniors:
It has been an absolute JOY.
Thank you for the laughs, for inspiring me, and for always making my heart so full. Long live CON!, RAD!, backwards lap, the BELL, K2, shenanigans, girls team tie dye, and the Coach Hall nod.
Know that the traditions you have set and memories you have made will stay with you long after your time at CA, and will impact you in more ways than you can even imagine.
I hope you never stop cheering for others, running your own race, working together, having fun and believing in your individuality and uniqueness, and the power that it has to impact a life and change the world. I know each one of you have, for me.
Believing in you, always!
Coach Bristol
Everyone, we had a short time together this spring. So much potential. So much promise. You all came on board with energy, commitment and an earnest desire to learn and improve. This year started off with a bang and then was interrupted by a virus. This may always be known as "the year that could have been". But we all face adversities and it's how we respond to them that we learn about ourselves, learn from these experiences and move forward. The best of luck to all the senior throwers in all of their endeavors. The best in your lives are yet to come.
"You have brains in your head. You have feet in your shoes.
You can steer yourself any direction you choose."
Shon Bagade
Shon Bagade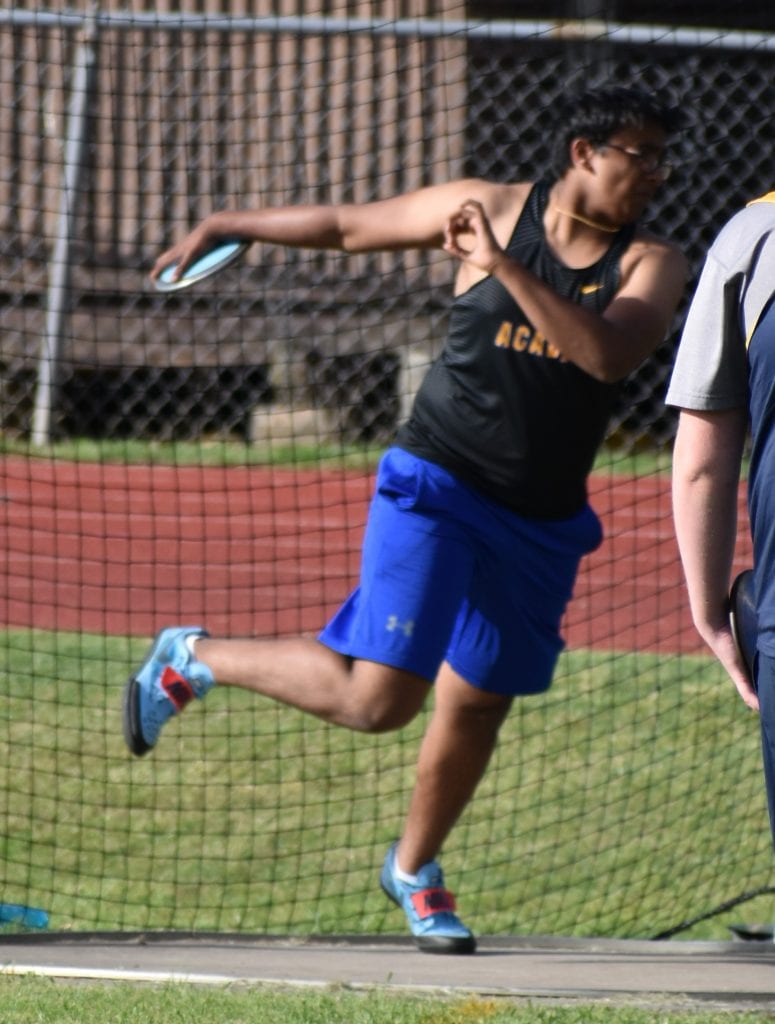 From Coach Hall
Shon Bagade, a 4-year track & field athlete, competing in the throws, Shon was very adaptable and adopted new ways of practicing this season. He saw opportunity for his personal progress and improvement and was all-in. He was a fun and positive member of the throwers team. He was attentive and receptive of new ways of doing things for himself and his teammates. His efforts would have eventually paid off very well with PR performances in the shot put and discus this season. Shon's parents are Sayam and Sanjana Bagade. Shon plans to attend UNC-Charlotte.
In his own words
"Although Coach C isn't with the Track & Field program anymore, I want to thank him first.  Coach C has not only made me the thrower I am today, but he has helped me tackle my issues inside and outside of the circle. I want to thank my teammates, especially Constantin Zodl and Will Snider, for helping me improve my technique and skills when the throwing team went through times without much coaching. I want to thank Coach Bristol for going the extra mile when coaching us and coming in on weekends and during breaks, regardless if any team members showed; he even did this before accepting the role as the throwing coach last year – not because he was obligated but simply out of kindness. Lastly, I want to thank last year's manager, Jared Seidel, for all the times he marked me present when I was late to practice, I wouldn't have made it to states without you bro. 
The sport itself has meant much more to me than just athletics. From the post-states Bojangles to the 4×400 shenanigans, CATF has taught me the significance of working as a family. My favorite memory was probably the state meet and every year seeing how far we had come as a team from the start of the year.
I would like to leave the gold disc behind to Zach, you deserve it.
Next year I will be attending UNC Charlotte to pursue a degree in Computer Science."
Ted Davis
Ted Davis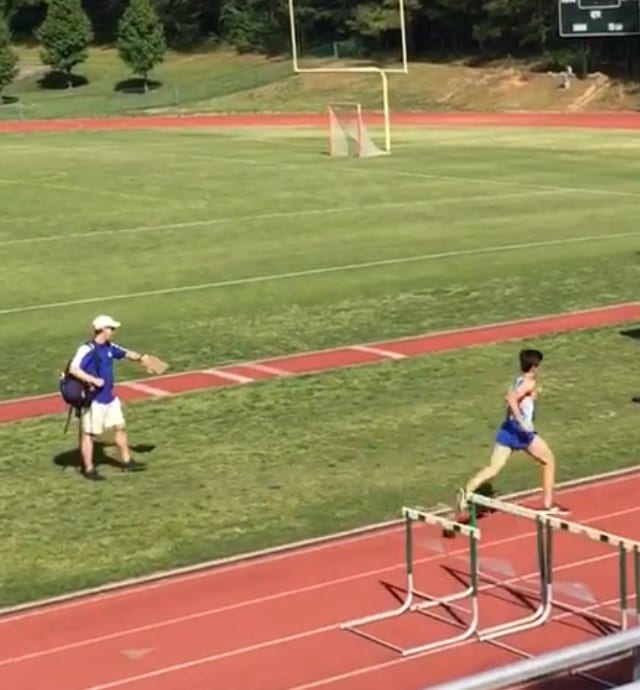 From Coach Hall
Ted Davis, a 3-year track & field athlete, competing in the distance events, Ted was an astute learner and an enthusiastic team member. Ted enjoyed his afternoons with the team and appreciated the multi-faceted experience of track & field: the physical fitness, the intellectual nuances and lessons, the presence with nature, and the team camaraderie. Ted's strong work ethic and self-discipline helped him improve strongly during his career, particularly in his best events of the 800m and 1600m. Ted's parents are Marcia and Mark Davis. Ted plans to attend the University of Pennsylvania.
In his own words
Was it John L. Parker or Coach Hall himself who reminisced, "Back to September, the month of promises"? Now, that first September feels so long ago. 
My running career was never linear, but time is never linear, and neither is the track, and people change. I owe a great debt of gratitude to Coach Hall—whose charm and guidance nurtured each footfall—and Coach Fenton—whose measured precision structured so many practices. Thank you as well to all the other coaches, parents, and officials who made these years smooth and memorable. 
I never liked the warmup, and while many would attribute that distaste to laziness, I will give myself the benefit of the doubt and maintain that it was my great love for Coach Hall's daily shared wisdom coupled with my gnawing urge to just go run that made the intermediary period seem so desultory. 
Many memories line the worn path to SAS campus and beyond, as baked in as the muddy mulch. Finishing the moderate on that forsaken stretch, exposed to the fury of an unmerciful sun, I remember thinking many times that this sport is best savored in retrospect. You run for the feeling that settles in after you've finished running. Some days, it was only the dewy visage of Coach Fenton, descending cloudlike in a vision of eternal judgment, that compelled me to finish. I maintain he always could've played a stoic Matthew McConaughey better than, well, Matthew McConaughey, and it was an honor to share the set with him.
May future teams wear out this new track and wear out the next!
Dane Fekete
Dane Fekete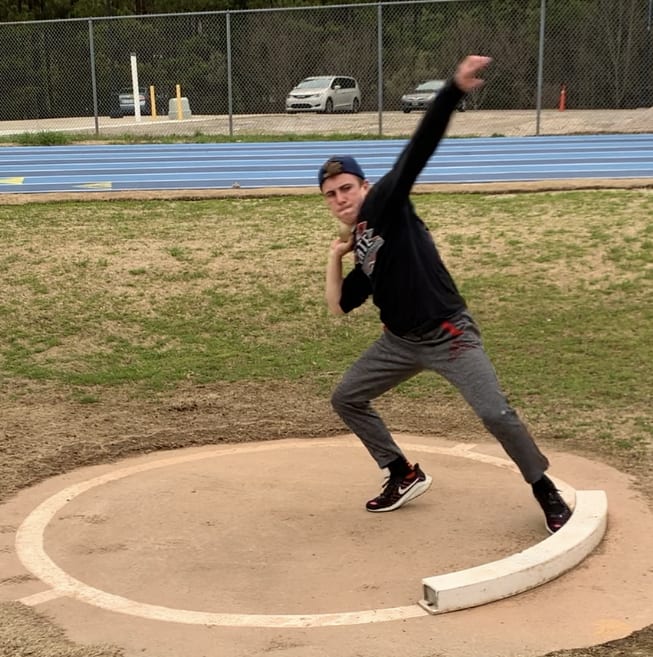 From Coach Hall
Dane Fekete, a 4-year track & field athlete, competing in the sprints and throws, and a team captain, has been one of the few 2-year captains in our team's history, a reflection of Dane's energetic, positive leadership, and his ability to lift those around him. He is serious and fun, with lots of personality. He has been one of our top sprinters and a key relay team member for the past four years. Always expressing a joy for life, and willing to try new things, in the throws, Dane wanted to learn this new event and improve his shot put technique. He was extremely focused and intentional with his technique commitment. He has great physical strength and fitness and it showed in his throwing distances in practice. With a little more time, who knows what he could have accomplished in these new events.
In his own words
Thank you to all the track coaches I have had over the last 4 years, both past and present. Although senior season PRs and school records on the Mondo never happened, I am still pleased with what I was able to do in my abbreviated time this year. Although I don't know what there is to leave, I guess I'll have to give my unquestionable power and authority over the sprinting team to Russel Burns, may he be a wise and courageous leader of the best part of the track team. And to the rest of the team, I leave all those records we were going to break this year for next year's squad.
Teo Feliu
Teo Feliu
From Coach Hall
Teo Feliu, a 4-year track & field athlete, competing in the distance events, was a huge part of our team, garnering the nickname "El Toro" for his powerfully positive personality. Teo always brought a fun-loving attitude to the team that lifted spirits and helped keep things positive and in perspective even on the hardest days. Teo's parents are Pepe Feliu and Ines Merce.
In his own words
I would like to thank my parents, especially my dad, for making me do XC and track the first year and showing support during meets.  I am confident I wouldn't have made it through four years of CATF without Coach Hall, as he made me feel like I had a place on the team even if I wasn't in the "starting lineup". I want to thank him for his dedication towards the team and every teammate; he is what I will miss most from CA running. 
Some of my closest friends come from the cross country and track teams, and the coaches and teammates made running something to look forward to.  Prior to joining the team, I never thought that was possible. Now, I have actually been running on my own time during the quarantine which is something I never thought I would do. 
I leave the B team to anyone that finds themselves capable of carrying such an important role, and leave BurgerFi and long runs to Chloe, Hannah, and Jacqueline, as no one takes this team more seriously than them. 
I will be attending Duke next year and will likely major in Math or Computer Science. Thank you for four wild years of running, and even though I'm sad this season was cut short, I know I'll keep running in the future.
David Go
David Go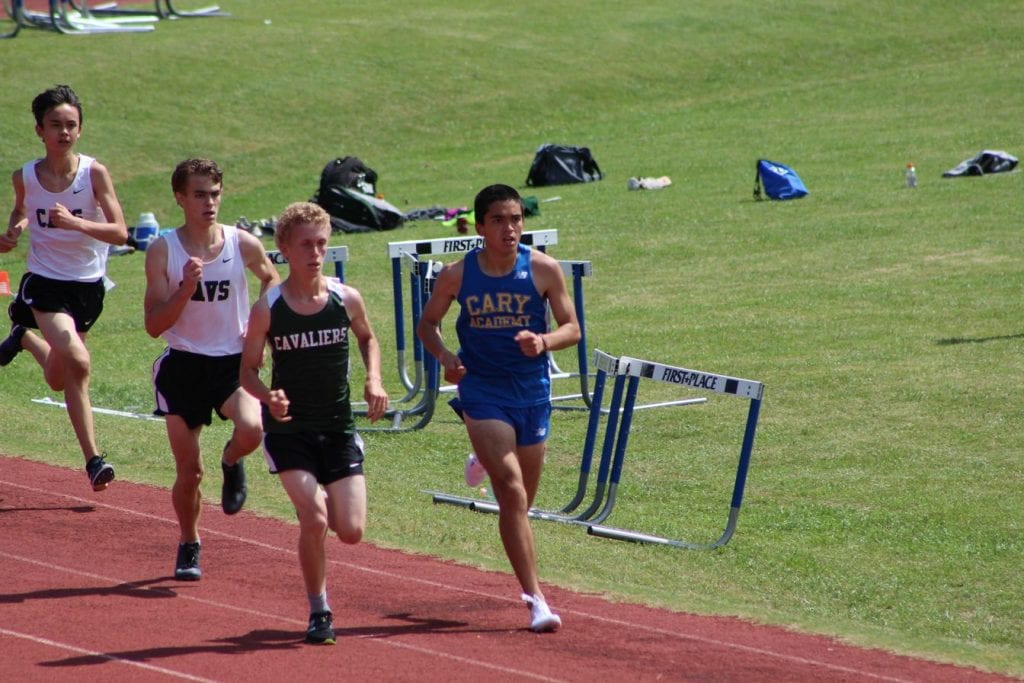 From Coach Hall
David Go, a 4-year track & field athlete, competing in the distance events, and a team captain, David was an instrumental leader for the track program. A passionate track aficionado, David brought organizational skills, devotion to the program, and a visionary leadership outlook that can't be overestimated. A founding member of the Indoor Track program and the organizer of countless team adventures, get-togethers, and field trips (such as to meet Edward Cheserek), David was a central pillar of CA distance running for the past four years. Throughout his career, David demonstrated both determination and perseverance, working hard to improve to the All-Conference level in cross country his senior year, and culminating in a 4th place finish at the NC independent schools state Indoor meet in the 3200m. David was also of indispensable assistance to the coaching staff, taking the lead, with zest, on innumerable projects and initiatives. When cleaning up after a late meet, David would be one of the last to leave, always offering assistance and service, a true mark of great character. David's parents are Sarah Moessinger and Andre Go. David plans to attend UNC-Chapel Hill and major in geography.
In his own words
It was not supposed to end this way. I always assumed I would get injured and ruin my own season, but I never could have predicted that a public health crisis would ruin it for everyone. Running has been the highlight of my time at Cary Academy. I don't know who I would be if I hadn't found it. Thanks to Coach Hall and Coach Fenton for training me for the past four years. Thanks to Coach Krista and Coach Zac for being at practices and keeping them fun. And thank you to Coach C and Coach Liming for not giving up on me when I ran 19 minutes for 1.5 miles in the time trial.
Running has taught me so much over the years. Long runs in 100 degree heat and interval sessions at 6:00 AM before school have taught me toughness and discipline. Pushing the pace in races when I'm not sure if I can finish has taught me to be confident. Coming back from injury after 13 months off taught me how to be resilient. And this disappointing end to my last high school season is a lesson that things don't always happen the way you want them to. I wonder what I'll learn next.
Kyle, Kenny, Matt, Marvin – I hope you four can be better leaders than I was. Durham Academy is weak next year. You got it.
Cole, Sebastian – You two are going to be upperclassmen next year. Set a good example for the younger runners.
Phoebe, Ryan – Keep the Church of Steve alive. The future of the team depends on the strength of the runners' faith.
The rest of the distance team – I cannot wait to schmack all y'all at the alumni meet.
Senior English Capstone Project plug: dgrunningformula.com
Jono Jenkens
Jono Jenkens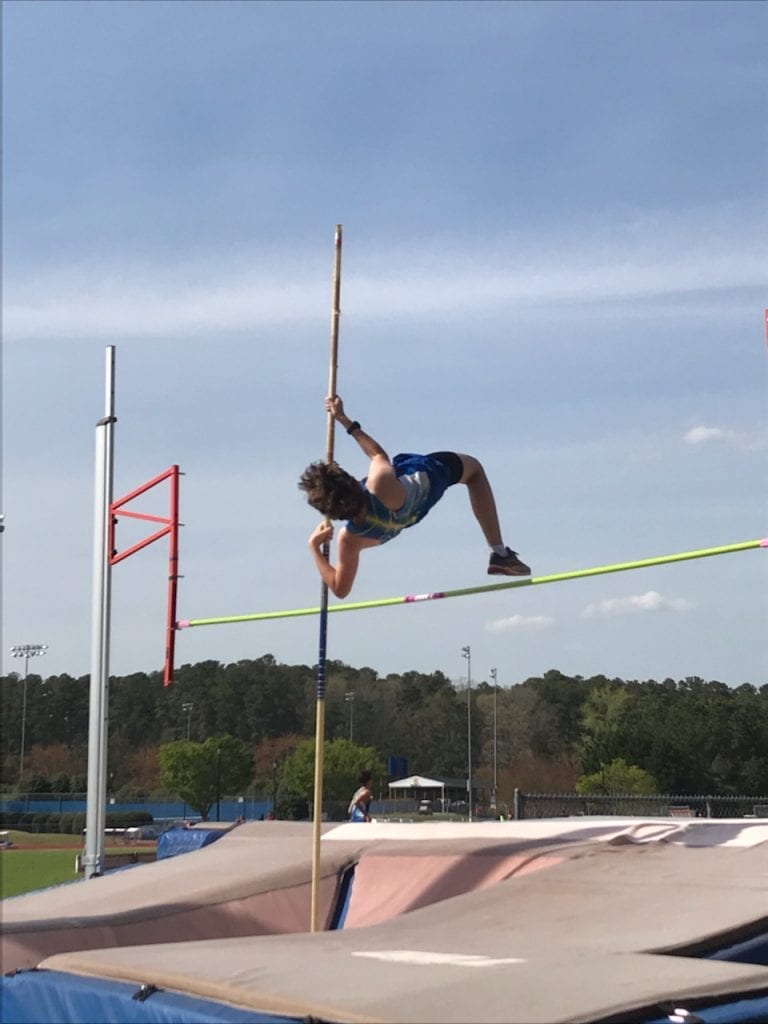 From Coach Hall
Jono Jenkens, a 4-year track & field athlete, competing in the pole vault, found his athletic place in track & field with the pole vault. After trying many different event groups, Jono found arguably the most difficult to be his best fit. Through hard work and attention to detail, Jono developed the skills needed to do this challenging event, and improved a tremendous amount from freshman to senior year. Jono's willingness to try anything and not get discouraged were always appreciated by the coaching staff.
In his own words
I would like to thank Coach Setzer for coming in and coaching pole vault for the past few years.  I would also like to thank Coach Hall for understanding my dual requirements of track and robotics, and Coach Jose for running Pole Vault Carolina.
Matthew Modi
Matthew Modi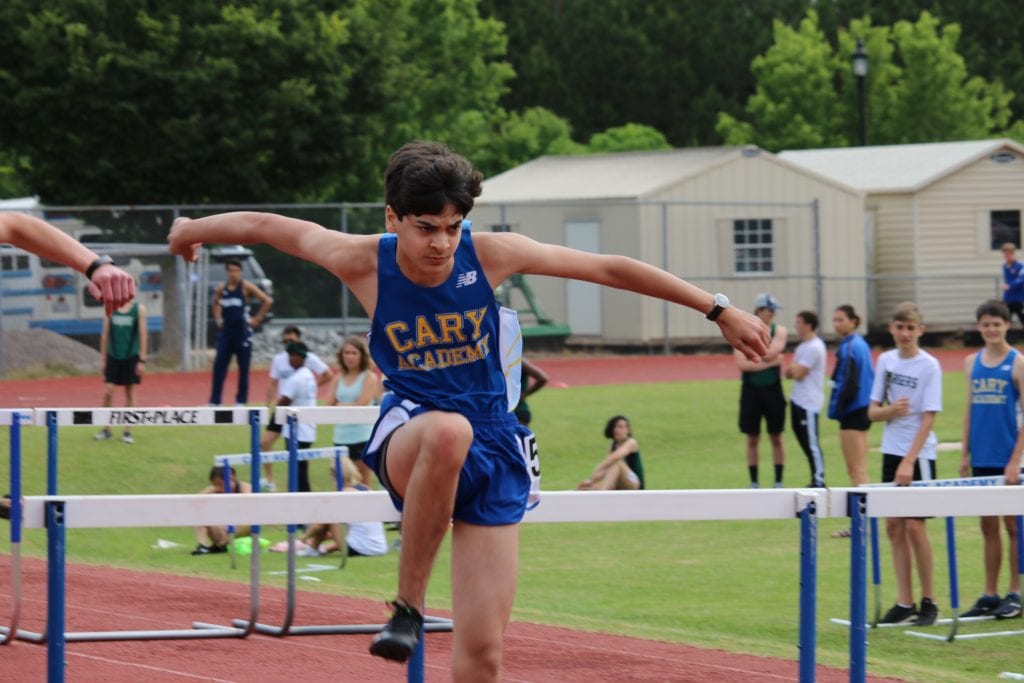 From Coach Hall
Matthew Modi, a 2-year track & field athlete, competing in the sprints and hurdles, Matthew would always come down from robotics with a positive, cheerful attitude, and a willingness to work hard. He chose an event, the hurdles, that most athletes are afraid to try, and placed 10th at the 2019 TISAC meet in the 110m High Hurdles.
In his own words
First, I want to thank Coach Rod and Coach Krista for pushing me to improve and supporting me through these seasons. I would also like to thank my parents for their love and encouragement, regardless of how fast or slow I ran. 
My favorite memory is my 11 second PR in the 300m hurdles at DA. I wish the hurdle squad good luck next year.
I will be attending Columbia University this fall to major in mechanical and computer engineering. 
Obinna Modilim
Obinna Modilim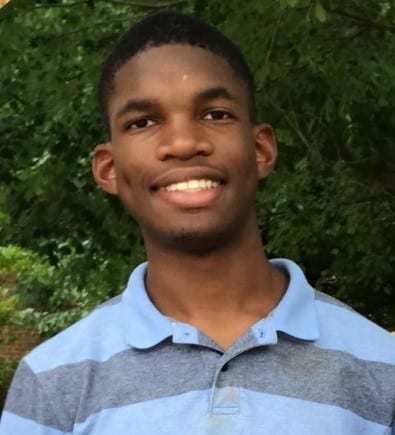 From Coach Hall
Obinna Modilim, a 2-year track & field athlete, competing in the jumps, Obinna brought a focus and seriousness of purpose that was appreciated by the coaching staff. Every day at practice, Obinna brought an attention to detail and a sincere desire to improve. He was a model pupil to our jumps coach and we always loved watching Obinna crack a smile when he was proud or amused. Obinna, was a great student, robot engineer, jumper, and a wonderful team member on the track team.
In his own words
I want to thank my  family whose support made all of this possible. Also, I would like to thank my friends who made my experience with Track and Field so enjoyable. To me, Track and Field is a chance to constantly learn and grow alongside my peers. One of my favorite memories is my first meet. It was then that I fully understood the magic of being part of the Track and Field team.
I will be attending the Massachusetts Institute of Technology while majoring in Physics.
Saajan Patel
Saajan Patel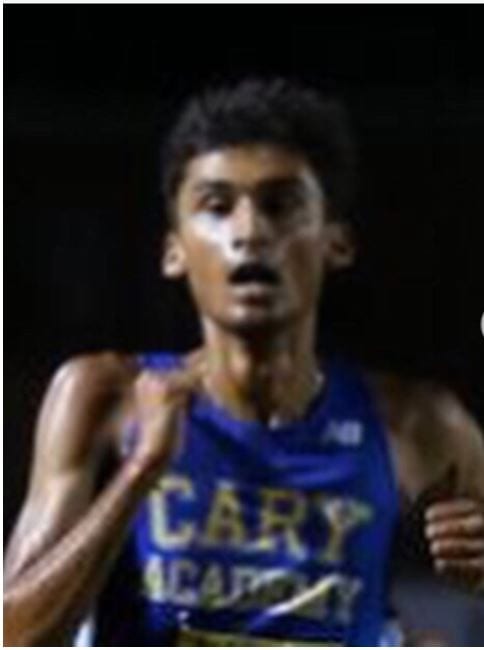 From Coach Hall
Saajan Patel, a 2-year track & field athlete, competing in the distance events, Saajan brought a bright and positive personality every day, eager to engage the challenges. A hard worker who kept a joyful attitude and was always excited to be with the team, learn new things, and improve, Saajan was a quintessential CA distance runner.
In his own words
I would like to thank Coach Hall for exposing me to an activity I wish I started earlier, inspiring me to sleep more, and showing me the beauty of Bojangles. I would like to thank Coach Mentock for always signing me out even when I never sign out. Coach Fenton for pushing me when I never wanted to.
I leave my red hat to no one because it cannot be found. To Marvin I leave many many quad F ball Injuries; to Ryan I leave car rides back to the other side of Cary, to Xavier I leave my kaki pants; to Mathew and Kyle I leave Xavier to keep in check; to Kenny I leave Sebastian and any seb 2.0's to beat in strides. To Priyanka I leave the Cary Park Lake, if your even allowed to go there:) 
I will be going to Duke where I will major in beating Aidan at Ping Pong.
Rohan Sachdev
Rohan Sachdev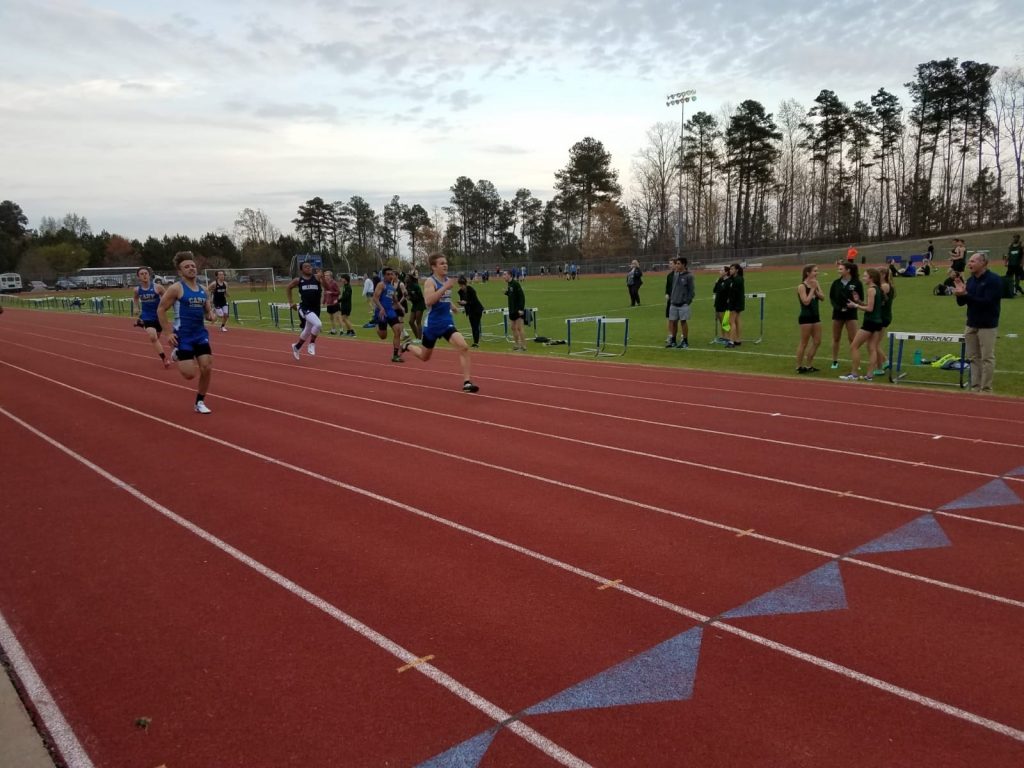 From Coach Hall
Rohan Sachdev, a 2-year track & field athlete, competing in the sprints, Rohan bookended his CA career by being on the track team as a freshman and a senior. Throughout, he was one of the top ice hockey players in the state, which delayed his return to track this spring. Had we had a full spring season, Rohan's speed and energetic enthusiasm were sure to make him a huge contributor to our team this year. It was great to have Rohan back at last!
In his own words
Though I was only a member of the Cary Academy Varsity track team my freshmen year, and two weeks of my senior year, it was an amazing experience. I started off my – albeit short – track career in the Middle School with Coach McCoppin, and continued into high school with Coach Hall. From doing 200m sprints in the rain to the hill climbs, I never questioned the training methods of Coach Williams because I knew he had our best interest in mind. 
Unable to participate in track my sophomore and junior years due to ice hockey Championships, I look back and note that Track meets were my favorite part of the season; the constant adrenaline, excitement, and anxiety, followed by huge amounts of lactic acid build up in my legs made the experience even more memorable.  I will truly cherish all my memories of the sport for years to come. 
I want to thank Coach Hall for his dedication and pure passion for the sport that would always inspire us to endure the training. I want to thank Coach Williams for always pushing me to my limit during our training and helping me achieve my true potential. I would also like to thank the rest of the coaching stuff for making track a wonderful experience. Not only did track help me become a better hockey player, but it also made me a more well-rounded person.
Grant Scotto
Grant Scotto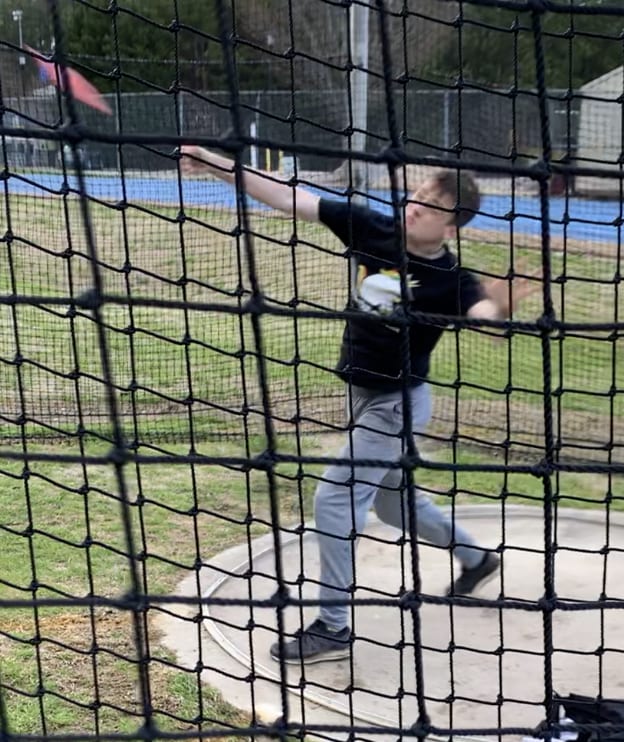 From Coach Hall
Grant Scotto, a 4-year track & field athlete, competing in the distance events and throws, has been a team leader for cross country and track & field for the past four years. A multi-talented athlete, Grant showed talent as a distance runner and as a thrower. Pole vault was also in his wheelhouse and could have been an emerging event for Grant. This combination of endurance, explosiveness, and strength made Grant a rare and impressive athlete. In addition to a life-long commitment to physical fitness, Grant is also an astute observer of nuance and technique. Grant was eager to learn shot put and discus this year, and was intently focused on the details of employing good technique. He was committed to excellence in all of his pursuits, demonstrating another of Grant's best traits. He was a strong leader for our team, and was captain of our cross country team the fall.
In his own words
I would like to thank my parents for providing every match and meet with nothing other than the most delicious vegan treats I could ask for and to my coaches for dedicating hundreds upon thousands of hours of dedication into making me the best person and athlete I can be. I thoroughly enjoyed every minute of athletics at Cary Academy, but playing trumpet for this years Cross-Country senior night was icing on the cake. I will be attending UNC Chapel Hill this fall and hope to major in physics, chemistry or something alike. My word of advice to any all athletes is to find a competitor, find someone your skill level and train with them, work together to make each other improve and zone out the super stars and success will come. 
Allen Shen
Allen Shen
From Coach Hall
Allen Shen, a first-year track & field athlete, competing in the sprints and distance events, Allen came out his senior year to experience track & field with his fellow seniors. He had a great attitude and was willing to try anything, be it sprinting or distance. During his short time on the team, Allen relished the camaraderie, exercise, and beautiful bucolic landscapes while we trained in the gorgeous North Carolina spring.
Aidan Sher
Aidan Sher
From Coach Hall
Aidan Sher, a 3-year track & field athlete, competing in the distance events, Aiden worked with a positive attitude and joy for the process as he improved in all of his events throughout his career, including his best event, the 3200m. A supportive teammate, Aiden lifted the team with his warm personality and quick wit.
In his own words
First, I want to thank my coaches for everything they have done the past three years. Coach Hall, thank you for your commitment to the team and especially your unforgettable pre-practice speeches which gave us all the necessary motivation for practice that day. I have never forgotten how the antelope chases the lion or something along those lines. Coach Fenton, although he is no longer coaching us, thank you for reminding me of my commitment to the team and holding me accountable. Thank you to my teammates as well – the runs we've gone on together in the woods or exploring SAS campus are some of my favorite memories from high school. Whether it was down in Mars or risking trench foot in the rain, it was always a fun time. Even the hill workouts will be missed; I will always nostalgically remember those reps, especially the newly created "long version". 
To Kenny, I give you back all those laps you passed me on in the 2-mile, to Ryan the Solar Farm and SAS peanut butter containers, and the rest to the B-team boys. Lastly, I'd like to thank my family. Even though you didn't attend any of my meets, you were always there in my heart. Next year, I will be attending Duke University where I plan to destroy Saajan in ping-pong.
Loren Troan
Loren Troan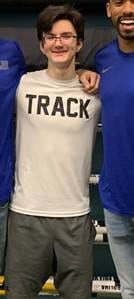 From Coach Hall
Loren Troan, a 4-year track & field athlete, competing in the pole vault and sprints, and a team captain, Loren was the State Runner-Up in the Indoor Pole Vault in 2020 and improved over his career to become one of the top pole vaulters in the NCISAA. Loren is a model athlete and person. He does what you ask and gives the extra effort every time. Few athletes have improved as much from freshman to senior year as Loren! Although he had to balance multiple event groups, he always gave his best in each group and provided key enthusiasm and leadership. Loren would always lend a helping hand and would always step up in any way the team needed him. Loren loved helping out in the 4x400m Relay at the end of the meet. Loren was a joy to coach and we'll miss his leadership with the vaulters, sprinters, and hurdlers. An exceptional scholar and athlete, Loren plans to pole vault on the varsity track team at the University of Chicago next year.
In his own words
Thank you to the coaches, each and every one. You believed in me, supported me, and cheered at my success. The energy brought to each practice showed me how Track is about more than the competition; it's the practices, painful and sweaty, that build friendships and success.
A lasting memory is the final 100m of each 4×400 segment. The entire team cheering opens up a new reservoir of stamina that might not even exist. 
To the underclassmen and juniors; you got this. Use this unique opportunity to get stronger and don't give up on your sports. I look forwards to returning and seeing how much you improved next year!
Koen Winemiller
Koen Winemiller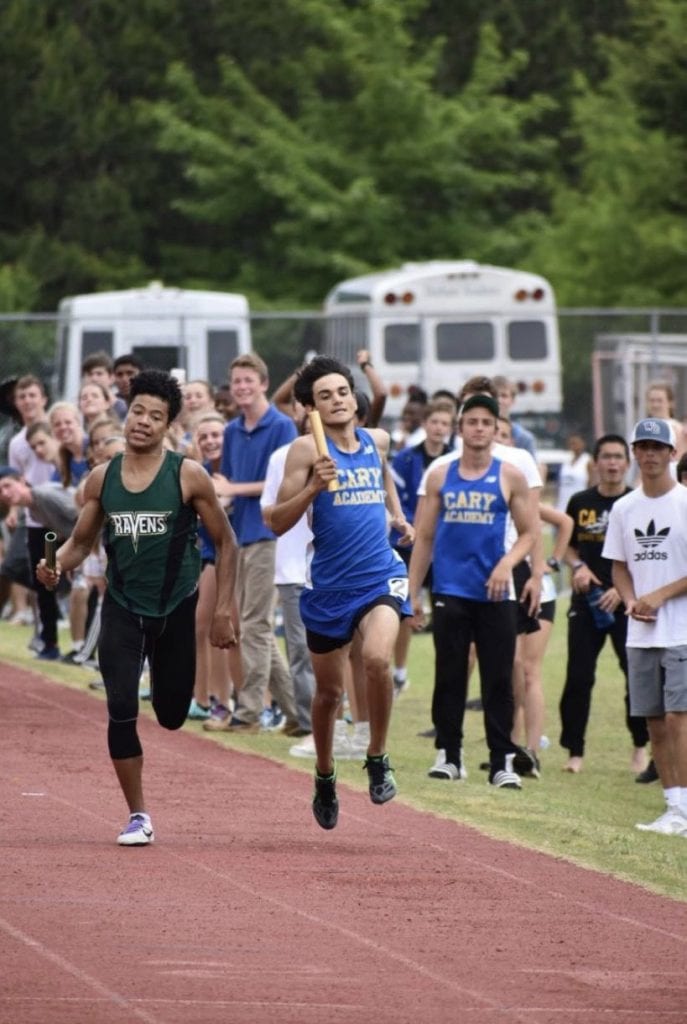 From Coach Hall
Koen Winemiller, a 4-year track & field athlete, competing in the sprints and jumps, Koen's talents in track exceeded even those he substantially possessed in the realms of punctuality and pick-up basketball. Koen's speed on the track was impressive and his toughness was demonstrated in his success at the 400m. Also discovering a late-blossoming talent in the long jump, Koen was a top point-scorer for our team and one of the top athletes in the TISAC conference.
In his own words
First, I want to thank Coach Hall and Coach Rod for showing me my talents over the course of four years and helping me improve as a track athlete. I also want to thank all the other coaches that have dedicated their time to watch me grow as a runner. I would not be the track athlete I am today if it were not for my teammates, my friends and my family consistently cheering me on at the meets. Thank you to anyone else who believed in me and cheered me on these past four years!
I have been running Track & Field since middle school and it has always held a special place in my heart. The adrenaline that runs through my body before a race is what keeps me going and fuels me to train harder and become a better athlete. 
One lasting memory is injuring my knee during my sophomore Track & Field season; the injury led to season ending surgery. I was devastated. However, the following year, with the help of Coach Rod who showed me which events I could excel in, I became the 400m runner up in conferences and went on to states to compete in the 400m and long jump. I never thought I could make it to that level, but my teammates and coaches helped me reach that goal. 
I want to leave behind the sprinting program and messing with Coach Rod to Russell and Sarah. 
I am attending the University of North Carolina at Chapel Hill this fall and hope to join their intramural Track & Field team.
Eric Xing
Eric Xing
From Coach Hall
Eric Xing, a first-year track & field athlete, competing in the sprints, added a lot to our program in the short time he was with us. Eric showed up consistently ready to work. He was a team player ready to step in for relay work any time we needed him.
Constantin Zodl
Constantin Zodl
From Coach Hall
Constantin Zodl, a 3-year track & field athlete, competing in the throws, Constantin was captain of the men's throwers. Constantin demonstrated leadership, was a good role model and example to others, and was fun and very pleasant to everyone. Despite his previous accomplishments in discus when he was TISAC Champion and set the School Record last year, he still wanted to learn more, improve and push himself further. He was very helpful, patient, gentle and empathetic with his teammates. This is a tremendous strength. It was a pleasure working with him. I wish we had more time together and a chance for him to PR in the shotput as well as set new school records in the Discus. Good luck in all he does going forward.