25 years ago, an intrepid group of education visionaries, technologists, and operations experts were tapped by our founders Jim and Ann Goodnight and John and Ginger Sall to design a ground-breaking, student-centered, technology-forward, mold-busting school for the future. Cary Academy was born.
Much has changed since that hot August day in 1997 when we first welcomed 255 students to campus, gathering in front of the Administration building for our first ever Handshake Ceremony. (For proof, look no further than the timeline in the following pages.)
Twenty-two classes of Chargers have since walked across the commencement stage, heading out into the world as lifelong learners and global change makers. Muddy pathways have long given way to stunning, mature landscaping. Clunky desktop computers—so groundbreaking at the time— have been traded for lightweight tablets that can accompany students on their learning sojourns outside the classroom or VR goggles that can transport students to new worlds altogether. Construction barricades have yielded to new buildings—shrines to the arts and sciences that are thoughtfully designed to inspire creativity, embolden curiosity, and support teaching and learning. Nascent athletic teams have grown into state champion powerhouses.
Throughout the many changes the years have brought, one thing has remained wholly unchanged: an unwavering commitment to our learning community and founding mission—to inviting discovery, leading innovation, fostering collaboration, and pursuing excellence in all its many forms. It is imprinted in our very institutional DNA, a promise to our students, families, faculty, and staff.
For 25 years, we've witnessed this commitment in action every day. It's in the way our faculty have continually pushed our curriculum to keep CA at the forefront of pedagogical innovation year after year. It's in the way our students, empower d by the voice and choice they have in their learning, astonish us daily as they embrace their interests to forge their own learning journeys to remarkable outcomes.
It's in the support from our community— perhaps no more evident than in these last COVID-shaped years—and the way we have stood together in times of adversity, modeling the very persistence, resilience, and human kindness we hope to instill in our students. It's in the many ways our alumni are making positive changes in the world, fearlessly pursuing passions that originated right here on campus. And it is in how our inclusive community increasingly reflects the rich diversity of our area, representing a variety of experiences and perspectives that enrich us all. It is in our ongoing anti-racist and equity work that seeks to ensure all our community members feel seen, heard, and respected for their authentic selves.
This last year, we've embraced our 25th- anniversary theme—looking back, charging ahead—coming together on a variety of occasions to celebrate this momentous milestone. Like any good student, we know that fully appreciating our present and charting a course for the future, means taking stock of our past—of the experiences and people that have shaped who we are as an institution today. It means acknowledging both how far we have come and the work that still lies ahead. We have so much to celebrate.
To our founders and board members, we offer heartfelt thanks for your enduring vision and tireless support. To our faculty and staff, your commitment to our mission— the way you bring it to life in and out of your classrooms—is breathtaking. To our students and alumni, you are the beating heart of Cary Academy, the very embodiment of our mission in the world. And to our community and all who support us, we could never do it without you.
Together, we can't wait to discover what the next 25 years will bring. We know it will be phenomenal.
T H E F I R S T 2 5 Y E A R S
1990s
1994 :: Cary Academy's visionary founders Ann and Jim Goodnight and Ginger and John Sall articulate a bold vision: a school for the future centered on the whole child— one that fosters academic achievement, champions social and emotional development, leverages technology as an innovative learning tool that would engage and empower students, and inspires engaged citizenship.
1994-1995 :: CA's founders convene a collaborative planning committee comprised of local education experts, operations managers, and technologists. Together, they embark on an exploratory, in-depth planning process, traveling widely to conferences and peer institutions across the country, soliciting feedback and perspectives.
Late 1995 :: The site for CA's campus—Harrison Road—is selected. Raleigh's Cherry Huffman Architects are hired to prepare initial architectural drawings.
As a new school, it was crucial that the campus reflect established models of educational accomplishment and an atmosphere of quiet, scholarly reflection. With its famous central quadrangle, domed rotunda, brick facades, and Georgian columns, the University of Virginia is selected as a model.
Behind the traditional, elegant façade, a powerful technology infrastructure emerges, including cutting- edge personal computers, an enhanced campus intranet, and state-of-the-art software. These innovations, coupled with flexible classroom spaces, offer faculty and students the flexibility to accommodate multiple teaching and learning modalities.
1996 :: CA's planning committee presents the plan to the local community, including local leaders attending the Cary Chamber of Commerce annual planning conference. Six months later, Cary officials approve campus construction, and Cary Academy officially breaks ground in April 1996.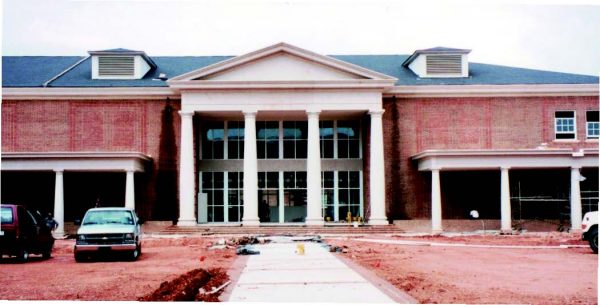 1996-1997 :: With campus construction underway, the founders transfer day-to-day responsibility for Cary Academy's program development to newly hired educational administrators, including Head of School Don Berger, Head of Middle School Marti Jenkins, and CFO Deborah Reichel.
1997 :: Cary Academy's draft mission statement, which endures to this day, is crafted and approved.
August 1997 :: Two buildings—the Middle School and Upper School—are completed, just in time to welcome students on opening day. Three additional buildings—the Student Center Dining Hall, Sports and Fitness Center, and Administration building—follow shortly in the months thereafter.
August 18, 1997 :: CA opens its doors for the first time. Two hundred forty-four new Chargers assemble outside the Middle School for our first-ever Handshake Ceremony.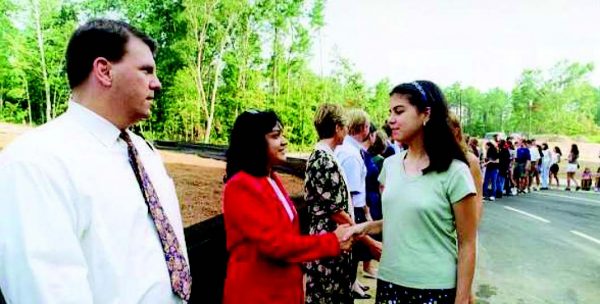 Fall 1997 :: Construction of Berger Hall, our state-of-the- art performing arts center, commences.
October 1998 :: Berger Hall opens to students.
1998-1999 :: CA joins the TISAC conference for athletics.
1999 :: CA embarks on its first long-term strategic planning process, making the bold move to incorporate current students into the process.
2000s
May 2000 :: CA holds its first Commencement ceremony, celebrating the Class of 2000.
December 2000 :: CA celebrates its first Homecoming celebration.
2001 :: The William C. Friday Summer Fellowship Program is created, establishing funding to award annually to three to five selected faculty for professional development projects that directly strengthen their teaching and field expertise.
Summer 2001 :: CA's technological infrastructure undergoes a complete renewal and expansion.
2003 :: Two new buildings open—the Fine Arts Extension, featuring enlarged visual arts studio space, and the Sports Education Annex, with basketball courts, sports medicine facilities, and classrooms—dramatically expanding the capacity for arts programming and rehearsal spaces.
May 2003 :: Our inaugural World Exchange Program travelers set off for learning opportunities in China, Argentina, Germany, and France.
2004 :: CA launches its Cary Academy Recognition for Mission Advancement (CARMA) program, offering a four- year award to those faculty that uphold and advance the school's mission in extraordinary ways.
2004 :: CA embarks on its second long-range strategic planning process.
2006 :: The Class of 2006 launches the immensely popular X-Factor student athletic booster group.
2006–2007 :: CA once again upgrades its technology, leapfrogging conventional laptops in favor of new wireless-enabled tablets that feature inking capabilities which allow students to take notes and make sketches directly on-screen.
2007 :: The community celebrates the Charger Stampede, revealing the large painted Charger horses that adorn campus, sponsored by the PTAA.
2007 :: CA celebrates its 10th anniversary with the publication of 1500 North Harrison Avenue Bistro—A Cary Academy Family Cookbook and a large community event at Koka Booth Amphitheater.
2010s
2013 :: After an extensive and highly competitive search, CA selects Dr. Michael Ehrhardt as the new Head of School.
2014 :: Construction is completed on a new Field House next to the Stadium Field, finishing the last element imagined as part of the school's original master facilities plan.
2015 :: CA embarks on an ambitious new master facilities plan as part of its latest strategic plan. To support this plan, the school begins its first-ever Campaign for Cary Academy.
2016 :: CA tests some of the open-space concepts embedded in the master facilities plan with two projects in the Upper School and renovates the lower part of Berger Hall to create a Discovery Studio and small makerspace.
2016 :: In the fall, students and alumni organize and host the first TEDxCaryAcademy with a theme of Ideas and Impact. Friday Night Lights—a spirit night of flag football and community games—makes its debut. In the spring, the Upper School re-introduces a structured internship program for 22 juniors during Discovery Term.
2016 :: Ground breaks on the new Center for Math and Science, a renovation and expansion of the former Sports Education Annex, featuring renovated Upper School math classrooms, eight state-of-the-art science laboratories, a greenhouse, and a large makerspace with 3D printers, a laser cutter, and a water jet. It also houses a bright and welcoming large-group meeting space and our second gymnasium, the CMS gym.
2017 :: Students compete in the first-ever Drink Cart Challenge, a team-based entrepreneurial competition. Several years later, the school will launch a full-blown entrepreneurial program and a new Charger Café.
2018 :: CA conducts its first large-scale alumni survey, garnering incredible feedback on the institutional impact it has had on the careers and lives of former students.
The structured internship program grows into the Work Experience Program, providing mini-internship opportunities for nearly 75% of juniors.
2019 :: CA doubles the size of the old weight room in the Fitness Center to create the Wilson Training Center, which features updated, state-of-the-art equipment and increased natural light.
2020s
2020 :: The track is resurfaced with a new Olympic-caliber Mondo running surface, the first of its kind in the Southeast.
2020 :: Renovation is completed in the Library, creating a new Charger store and café, a quiet study area, and several new glassed conference and meeting rooms.
2021 :: CA opens the academic year with a renovated Upper School that includes a revised entry, open and bright hallways, new meeting and collaboration spaces for students and faculty, and a new home base for the Center for Community Engagement.
T H E N E X T 2 5 Y E A R S
2023 :: CA begins work on its newest strategic plan, following an ambitious vision:
"Cary Academy will create personalized learning opportunities that are flexible and relevant in an environment that supports student wellbeing. We will cultivate self-directed and bold life-long learners who make meaningful contributions to the world."
2023 :: Cary Academy embarks on an expansive Middle School renovation to align the building with the aesthetic established across campus and provide for middle-school- specific learning and community spaces.
2036 :: Cary Academy celebrates its 50th anniversary.