The last 25 years have seen the Chargers rise from a nascent athletics program to conference-conquering champions, a story told by the trophy case, photos, and plaques that line the lobby of the Fitness Center. Now, a new fund—the Charge Ahead Fund—is helping ensure that all scholar-athletes and teams have the resources and support to dream big about the future.
Athletics have always been a cornerstone of the CA experience. It is why the Fitness Center was designed to sit across from the library, a choice signifying CA's commitment to balancing body and mind wellness and pursuits both physical and intellectual. Aside from the physical benefits of athletics, the Chargers that coach, teach, and support our students impart crucial wellness lessons and life skills that go far beyond the gym, field, or court: school-life balance, teamwork, stress management, resiliency, and leadership.
In the spring of 2020, after the varsity baseball team completed an undefeated regular season that culminated with a heartbreaking loss in the playoffs, a group of Charger parents approached the Development department. They shared how baseball had been an important and necessary outlet for their students after such a challenging pandemic-influenced year, how Coach Pope had led his players through the wins, but also through the devastating loss, imparting life lessons along the way that would be well remembered long after his players hung up their cleats.
Grateful, the parents wanted to express their thanks by preserving Coach Pope's legacy in a way that honored his vast impact on the broader student body and on CA athletics, not only as a coach, but as a teacher and mentor as well. Working closely with the Athletics and Development departments, they helped to create a new fund, the Charge Ahead Fund.
Designed to support all CA athletes and sports, the Charge Ahead Fund recognizes formally the monumental role that CA athletics play in overall student wellness. Any student, parent, coach, or employee may submit a Charge Ahead Fund grant request to enhance any aspect of CA's athletic program.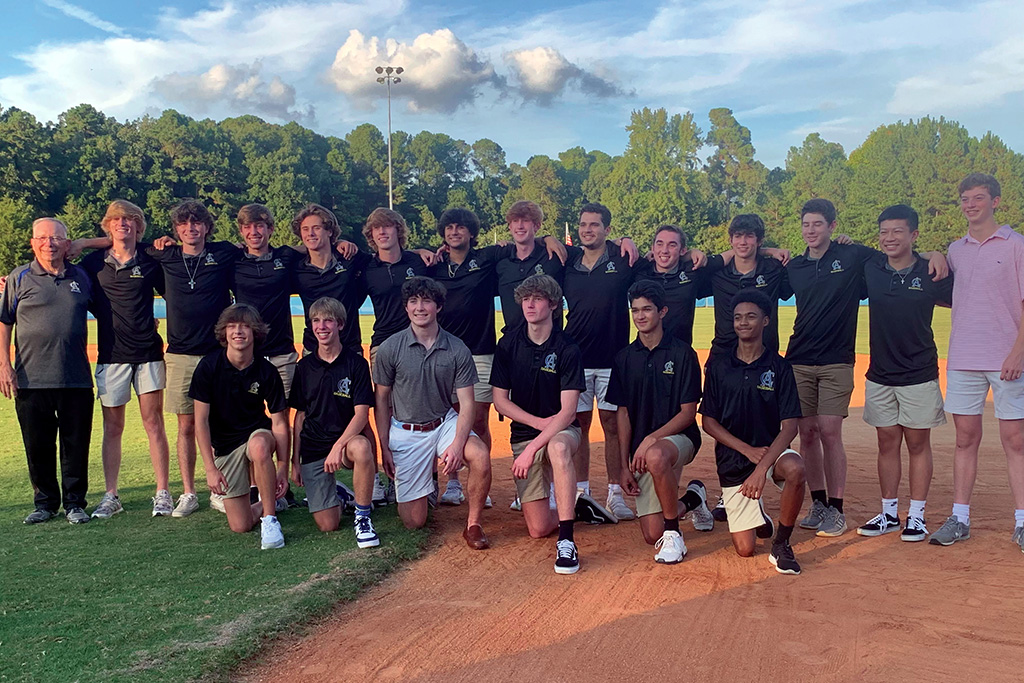 "Ultimately, this fund will continue to build upon the strong foundation that has been laid by so many, including Coach Pope," shares Ali Page, Director of
Development. "It allows our community to come together and make a cumulative impact on CA athletics by giving a voice to our student-athletes, parents, and coaches about their needs and desires."
Requests can be specific to one sport (new equipment for practice) or something to benefit multiple sports (misting tents to be used on the fields). Thanks to the initiative of our baseball parents and the support of the entire CA community, more than $50,000 has already been raised to help meet our athletes' needs, as determined by our Charger community.
"This fund underscores just how vital CA's athletics program is to our community. And, in just its first year, the fund is already making an impact," offers Athletics Director Kevin Jones. "We have installed a much- needed practice lacrosse wall and a batting cage turtle (a portable batting cage backstop), and we are looking at ways to improve the viewing area at the tennis courts. The prospects—and what they mean for our athletes and programs—are exciting; we are so grateful for the community support."
"So many at CA worked diligently to establish this fund and provide our families a way to support our remarkable scholar-athletes, coaches, and Charger teams," offers Charger parent Ashley Techet, who submitted the funded lacrosse grant proposal. "Funding matters; it helps our scholar-athletes blaze trails!"