During last night's 2021 NBA Draft, Cary Academy alum Trey Murphy III (' 18) was drafted as the number 17 overall pick, landing a spot with the New Orleans Pelicans. With Murphy widely considered one of the most versatile players in this year's draft class, the Pelicans' pick has is being lauded by NBA analysts across the country. Earlier in the day, Murphy visited Cary Academy's campus for a shoot-around in his old stomping grounds, the Fitness Center Gym.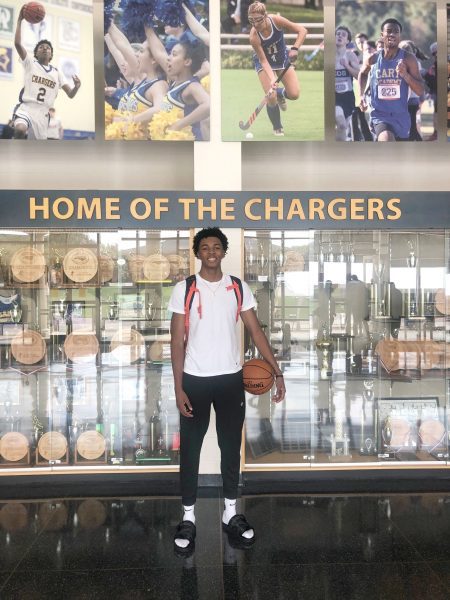 The 6-foot-9-inch, 200-pound guard is the only player in University of Virginia history to post a 50-40-90 shooting season in 2020-21. Before transferring to UVA as a junior, Murphy led Rice University in scoring during his sophomore year. Because of the pandemic, the NCAA granted Murphy immediate eligibility, allowing him to play for the Cavaliers rather than requiring him to take a redshirt during the 2020-21 season.
Murphy, from Durham, played varsity basketball at CA. His father, Kenneth, played at East Carolina University from 1986-88.
Murphy averaged 22 points during his CA career while shooting 53% from the floor, 45% from three, and 93% from the free-throw line. He is Cary Academy's all-time leader in field goals made, three-pointers made, and free throws made. During his senior year at CA, Murphy the Chargers to a 14-8 record, averaged 24.7 points and 7.4 rebounds while shooting on 49.4% from the floor, 43.6% from 3-point range, and 85.8% from the free-throw line. He was named All-Metro by the News & Observer. As a junior, he averaged 22.3 points, 4.3 rebounds, and 2.8 assists while shooting on 54% from the floor, 47% from three, and 93% from the free-throw line. He earned Triangle Independent School Athletic Conference (TISAC) All-Conference honors.