After an explosive debut in the NBA Summer League that has already led to rookie of the year whispers, Cary Academy's first alum to be selected as an NBA draft pick – Kenneth 'Trey' Murphy, III ('18) – recently sat down with Sports Illustrated's Priya Desai for an interview hosted in CA's Fitness Center gym.
Murphy returned to his "home gym" to discuss his path from Cary Academy to a career in basketball, the impact of COVID on his collegiate career, and the role that his love for psychology plays in his approach to the game.
Afterwards, Trey showed off his skills in the FC gym, while the cameras rolled.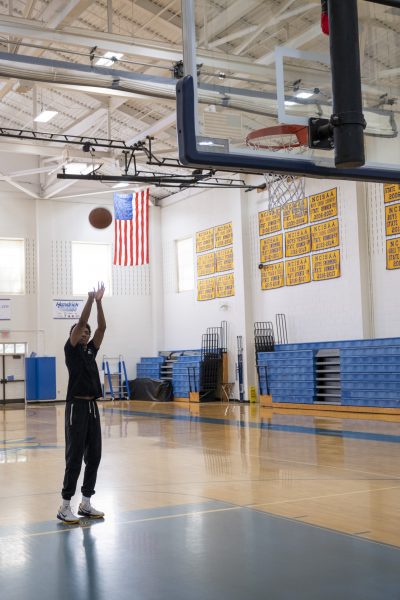 Before standout performances at Rice University and the University of Virginia, Murphy, from Durham, played varsity basketball at CA. His father, Kenneth, played at East Carolina University from 1986-88.
During his Cary Academy career, Murphy averaged 22 points, while shooting 53% from the floor, 45% from three, and 93% from the free-throw line. He is Cary Academy's all-time leader in field goals made, three-pointers made, and free throws made. During his senior year at CA, Murphy the Chargers to a 14-8 record, averaged 24.7 points and 7.4 rebounds while shooting on 49.4% from the floor, 43.6% from 3-point range, and 85.8% from the free-throw line. He was named All-Metro by the News & Observer. As a junior, he averaged 22.3 points, 4.3 rebounds, and 2.8 assists while shooting on 54% from the floor, 47% from three, and 93% from the free-throw line. He earned Triangle Independent School Athletic Conference (TISAC) All-Conference honors.